RHI 'fill our boots' claim misleading, says ex-DUP adviser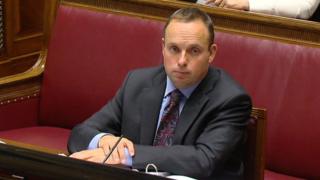 A former DUP special adviser has described an allegation that he said "we could fill our boots" with money from NI's flawed green energy scheme as "misleading and inaccurate".
The claim was made about Andrew Crawford, by senior civil servant Andrew McCormick at the RHI Inquiry in October.
The inquiry is due to hold three days of closing hearings next week.
It has published 45 new witness statements ahead of the sessions.
The Renewable Heat Incentive (RHI) scheme was set up in 2012 to boost uptake of eco-friendly heat systems but huge subsidies led to a potential bill of £490m for Northern Ireland taxpayers.
Andrew Crawford was DUP leader Arlene Foster's special adviser when she was in charge of the RHI scheme as Stormont's enterprise minister.
'Deflect criticism'
On the final day of the inquiry's oral hearings, Dr McCormick, the former permanent secretary in the enterprise department, said Mr Crawford had told him at a Northern Ireland Food and Drink Association (NIFDA) dinner in October 2016 that they could "fill our boots with money" from RHI because he believed it was coming from the Treasury.
He described it as a direct conversation with Mr Crawford, who was "very relaxed and smiling".
Mr Crawford has now said "at no time" did he make that comment.
He has told the inquiry he believes Dr McCormick made the allegation to "deflect any criticism from himself" and that it had resulted in a great deal of "negative publicity" against Mr Crawford.
Even after it had emerged in 2015 that there were problems with the scheme's budget, some officials were of the belief that any overspend would be paid for by the Treasury.
Ultimately, that was wrong and the overspend was left for Stormont to deal with.
Mr Crawford has now told the inquiry that he did recall having a discussion with Dr McCormick about the scheme at a NIFDA dinner in 2015, but not in 2016, as Dr McCormick claimed.
He said he had not even attended the NIFDA dinner in 2016, but in a further witness statement the inquiry puts video evidence to him that showed him at the dinner.
Mr Crawford then states: "It appears I did in fact attend the 2016 NIFDA dinner.
"I did not remember having done so and am grateful to the inquiry for giving me the opportunity to correct the evidence in my last statement."
But he stressed to the inquiry: "I want to reiterate that at no stage did I think, never mind say, I thought this was AME (annually managed expenditure) and we could fill our boots."
'Entirely consistent'
The former adviser said he was disappointed that Dr McCormick had made an unfounded and untruthful remark.
But in a new witness statement from Dr McCormick to the inquiry, the civil servant insists that the conversation took place.
"The substance of my evidence has been entirely consistent from the beginning," he adds.
Mr Crawford was named by Dr McCormick in 2017 as the person he believed was responsible for delaying cost controls to the RHI scheme.
Mr Crawford resigned as a DUP ministerial adviser shortly after that but denied the claim.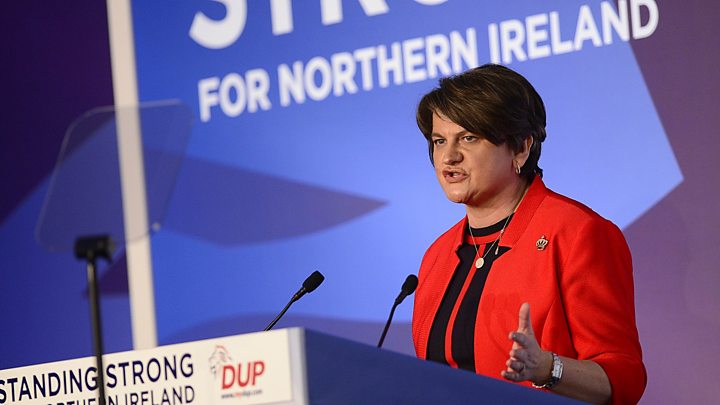 Mrs Foster is one of those who has submitted new witness statements to the inquiry.
At her party's conference last month, she said the DUP was "deeply sorry" for its handling of the scheme.
In her witness statement, she repeats that there is a "strong argument" for a fundamental review of the civil service.
The witness statement also returns to the issue of what she knew the night she did an interview with the BBC's Stephen Nolan in December 2016.
She told him she had "no idea" why there had been a delay in introducing tariff reductions in autumn 2015.
She had given evidence to the inquiry that Dr McCormick only told her of his belief that Mr Crawford had a role in the delay after the interview was complete.
Dr McCormick in his latest statement said he now believes he did not make the allegation outright to her her before the interview but rather inferred it.
But he said the team of senior DUP advisers around her were well aware before the interview of his belief about Mr Crawford's role.
He says the idea that Mrs Foster's advisers would not have discussed it with her before the interview "stretches credulity".
In her statement, Mrs Foster said she accepted it was now possible she had been told of the concerns about Mr Crawford's role before the interview.
But she said at that stage there was "insufficient evidence" to draw any conclusions about the reasons for the delay.
As such, she said, her answer to Mr Nolan that she had "no idea" still stood and to repeat a then-unsubstantiated allegation against Mr Crawford would have been "inappropriate".
The 45 witness statements also include further accounts from former DUP advisers John Robinson and Timothy Cairns.
Mr Robinson, who is the party's director of communications, is asked more questions about why he and his former DUP minister Simon Hamilton decided to send emails anonymously to the media and to Dr McCormick.
The emails showed how departmental officials had been briefing the boiler industry about upcoming cuts to tariffs - contact that was blamed for causing a huge spike in applications before the changes took effect.
The intention was to distract the media from focusing on the DUP's role in the debacle by switching attention to the actions of officials.
Mr Robinson blamed another DUP adviser Richard Bullick - who has since left his role with the party - for pushing the idea.
He claimed they had sent the emails anonymously because they wanted to protect the source.
He said if they had handed them to Dr McCormick, who had begun an internal investigation, they would have been asked where they had got them from.
The inquiry has heard how Mr Crawford sourced the emails from the Ulster Farmers' Union, who gave them to Mr Robinson.
Dr McCormick said the act of leaking the emails showed a "clear intent" on Mr Hamilton's part to put "short-term publicity ahead of a need for a fair and objective process to consider the facts around what happened in the summer of 2015".
Crucial email
Another witness statement from ex-DUP adviser Mr Cairns gives an account of how a crucial email came to light at the inquiry in October 2018.
It appeared to substantiate the claim that DUP chief executive Timothy Johnston co-ordinated attempts to frustrate cost controls to the scheme.
Mr Johnston has denied any such involvement.
The email was found by Mr Cairns on a DUP server and forwarded to the inquiry team in October this year.
He said he had accessed the email account after speaking to his solicitor and in order to comply fully with the inquiry's disclosure order.
'Catch-up on RHI'
He said he assumed the account had been previously searched by the party and anything relevant produced.
But having remembered the default password for his account, he says he ran a search and found the email in the sent box.
It was a communication he sent to Mr Johnston on 17 August 2015, when Mr Cairns suggested they get a "catch-up on RHI".
Mr Cairns also wrote that if the Northern Ireland scheme was to deviate from the similar one in Great Britain by not bringing in cost controls, it would require a ministerial order.
He said that finding the email prompted a memory of a meeting between himself and Mr Johnston during a family holiday in August 2015.
He said the email had flowed from the short discussion they had at that meeting, though he could not remember the specifics of what they had discussed.
What is the Renewable Heat Incentive scheme?
The Renewable Heat Incentive (RHI) scheme was established by the Northern Ireland Executive to encourage uptake of eco-friendly heat systems over the use of fossil fuels.
However, an overgenerous offer of fuel subsidies meant it could cost taxpayers an extra £490m.
A public inquiry was set up into the flawed green energy scheme in January 2017.
The additional closing hearings will be held on 12, 13 and 14 December.
The inquiry's panel, chaired by Sir Patrick Coghlin, is likely to publish its report at some stage in 2019.