Ballymurphy inquest: Petrol bomb claim 'was hearsay'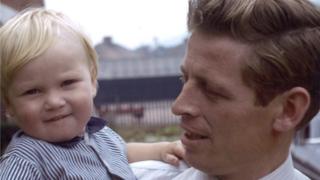 A pathologist who examined the body of a man shot dead in Ballymurphy has said he cannot stand over a claim from another source that the man was throwing petrol bombs at the Army.
Prof Thomas Marshall was giving evidence about the death of Edward Doherty to an inquest in Belfast.
It is examining the deaths of 10 people at Ballymurphy in west Belfast over three days in August 1971.
Mr Doherty was shot near a barricade during the Army's Operation Demetrius.
A former soldier, referred to as M3, had previously told the court that he shot a man who had been throwing petrol bombs, although he conceded that he might have missed and hit a bystander.
Other eyewitnesses have insisted that Mr Doherty had not been throwing petrol bombs.
'Note was hearsay'
Prof Marshall was asked on Thursday about a handwritten note on his autopsy notes - it said: "He was throwing petrol bombs at the army, was shot by them."
Noting that someone else had written the words, Prof Marshall said they had not been included in his final report.
"I couldn't stand over it, it was hearsay," he told the court.
Prof Marshall also said that he had not noticed a smell of petrol on the body or clothes of Mr Doherty, saying that if he had he would certainly have included it in his final report.
'Three possible scenarios'
On Wednesday, the court learned that two other pathologists have reviewed the original post mortem details from 1971 and agreed with Prof Marshall's main findings.
One felt that soldier M3's account was possible, that when he was shot Edward Doherty had been "side-on, potentially in an exaggerated throwing stance".
But the other pathologist said he could not exclude other scenarios, such as Mr Doherty bending over and turning to run away from the barricade where the soldier fired his weapon.
An agreed series of conclusions from three experts in forensic ballistics was later read to the court.
They agreed that Mr Doherty was killed by a low to medium velocity 9mm (0.35in) bullet, such as that fired by the Sterling submachine gun that soldier M3 said he used.
They also agreed on three possible scenarios for why Edward Doherty's right shoulder was lower than his left:
He was running
He was bending over
He was throwing something
None of the three scenarios was more likely than any of the others, they concluded.
'Defending our area'
Later on Thursday, eyewitness Joseph McAreavey recalled Edward Doherty being shot, saying "I'm hit" and falling into his arms.
Mr McAreavey said he had believed soldier M3 was actually firing at him.
"The Army were trying to break through into our area," he said, "and we were defending it."
He described jumping to the right as the shot was fired and seeing the bullet strike Edward Doherty instead.
He will give more evidence next week.
The court also learned that swabs for gunshot residue were taken from Edward Doherty's hands and passed to the Forensic Service but that the reports of any resulting tests cannot be found.
No weapon was found in the area and none of the witnesses has indicated that Mr Doherty was carrying a firearm.