Bluetongue: Farmers warned of disease in imported cow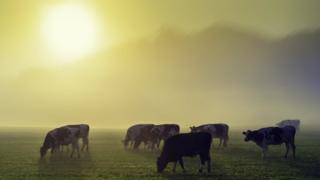 Farmers have been warned to be vigilant after bluetongue was discovered in a cow imported to Northern Ireland.
Bluetongue is a viral disease borne by midges that can affect sheep and cattle.
It was discovered in a heifer that had been imported from France, where the disease is circulating.
The animal has been destroyed and movement restrictions are in place on the affected farm.
The Department of Agriculture, Environment and Rural Affairs (DAERA) has not disclosed its location.
The disease does not affect humans or affect food safety but it can reduce milk production and cause infertility in affected livestock.
'Impact on trade'
DAERA's chief vet Robert Huey said the detection was as a result of a "stringent post-import testing regime".
"It is vitally important that we keep bluetongue out," he said.
"The risk is not only to themselves but to the whole industry as the impacts on trade could be catastrophic as a result."
As well as movement restrictions at the farm, departmental officials are also tracing and testing associated herds.
An investigation has been initiated to assess the situation. It will help determine if the disease is circulating.
Experts say that is "highly unlikely" as the active midge period has now passed.
As a result the UK remains officially bluetongue free at present.