NI boxer drops Commonwealth Games deselection case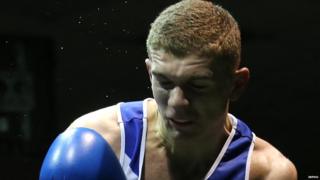 A former amateur boxer from Newry has withdrawn a case in the High Court where he sought damages after being dropped from a Commonwealth Games team.
Conor Wallace, 22, lost his place in the Northern Ireland team before it left for Australia in April this year
This occurred after police said they were investigating a complaint against a man from the Newry area.
Mr Wallace denies any wrongdoing and has not been arrested or questioned.
The boxer had previously been well known for working with UFC superstar Conor McGregor at a 2016 training camp in America.
At a previous hearing, his lawyer said Mr Wallace had been confronted by a self-styled vigilante group.
A barrister for the Northern Ireland Commonwealth Games Council (NICGC) insisted that its actions were at all times based on child protection issues and the police investigation.
'Best practice'
In a statement following the outcome this morning, the council said its decision to drop Mr Wallace was taken in line with safeguarding best practice and with the support and guidance of specialists in the sector.
The statement added: "At the time of deselection, the NICGC stated that the decision was based upon the protection of all parties and was not a determination of Mr Wallace's guilt or innocence in relation to any other matter."
The council also said: "The outcome of this High Court process vindicates the good governance, policies and procedures of the Commonwealth Games Council."