Player 'assaulted' during Ulster Schools GAA match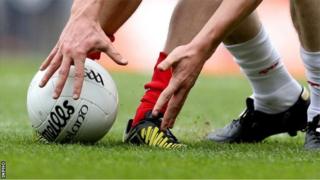 Gardaí (Irish police) have said they have received a report of an alleged assault on a boy following an incident during a Ulster Schools GAA match.
It happened at a MacRory Cup game in Corduff, County Monaghan, last Friday, the Irish Independent reports.
It is understood a player from St Patrick's College in Cavan was assaulted in an off-the-ball incident.
The boy was airlifted to hospital in Dublin where he is continuing to receive treatment.
St Patrick's College were playing Patrician High School from Carrickmacross, County Monaghan, in the MacRory Cup, Ulster's biggest GAA competition for secondary level schools and colleges.
Football pitch 'an extension of classroom'
It is believed the referee did not witness the alleged assault and no action was taken against any player.
Seamus Woods, Secretary of Ulster Schools GAA, said the committee is reviewing the referee's report into the incident, and added that it would "leave no stone unturned" in investigating the matter.
Ulster Schools GAA oversees competitions involving more than 130 schools.
"This incident will be investigated with the appropriate rigour. We work in the education domain and fundamentally that is about teaching right from wrong.
"From our perspective, the football pitch is an extension of the classroom," added Mr Woods.
'Specific circumstances unclear'
Christopher Rowley, the principal of St Patrick's College, told BBC News NI that he was not present at the game and the "specific circumstances of the incident are unclear as of yet".
"My understanding is that an air ambulance was called by a doctor on the scene and that automatically alerted the Garda," he said.
A Garda spokesperson said: "We are aware of an incident at Corduff, Co Monaghan on 30th November 2018. An alleged assault on a juvenile boy was reported at Carrickmacross Garda Station."
The alleged assault comes after a spate of violent incidents at club games in Ulster, with mass brawls at matches in counties Tyrone and Down in recent months.
Ulster GAA has run an initiative called 'One Punch Can Kill' to highlight the potential effects of ill discipline on the pitch.