Belfast drug dealer who boasted of 'criminal life' jailed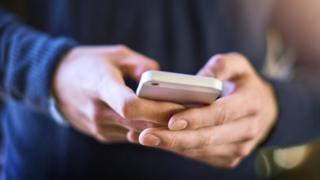 A drug dealer who boasted in a text message that "criminal life pays best LOL" has been jailed.
Stephen McLaughlin, 36, admitted being concerned in the supply of cocaine.
Text messages found on his phones played a key role in his prosecution after police seized three mobiles belonging to the father of two in August 2017.
McLaughlin, from Columbia Street in Belfast, was given a two-year sentence at Belfast Crown Court on Thursday.
He will spend one year in prison and the second year on licence.
The court heard that while no "stocks of cocaine" were found during a search on 21 August last year, police found text messages that indicated he could source and distribute the drug.
A prosecutor said a "large number of messages" on the phones were from people asking McLaughlin to get them cocaine.
'Introduced to cocaine'
In one message, he wrote: "Criminal life pays best LOL."
He also wrote that he "could make £1,000 a week" and described "making it into street", which the prosecutor said indicated diluting the cocaine for sale.
The messages also demonstrated McLaughlin was a heavy user of cocaine, she added.
A defence barrister spoke about McLaughlin's long history of employment, which includes working in an abattoir, on the railway network in England and as a nightlife promoter.
It was the latter job, the barrister told the court, that was his introduction to cocaine and led to his addiction.
Urging the judge not to send his client to prison, the defence lawyer asked that McLaughlin be allowed to tackle his drugs issues with the help of a community addiction team and a detox programme.
The judge said that while he accepted no cocaine was found during the search of McLaughlin's home, the supply of cocaine was a "very serious matter".
"People who supply A-class drugs have to realise they will go to prison," he added.