George Best Hotel developer in council row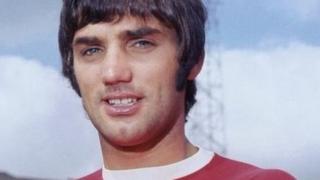 The man behind the delayed George Best Hotel project in Belfast is involved in a dispute with the city's council.
Liverpool-based Lawrence Kenwright is now threatening to scale-back investment in the city.
It comes after he alleged the relationship had become "a living nightmare."
He has written to the council after it began an investigation into work being carried out at the hotel.
The footballer-themed hotel is a £15m conversion project within the listed Scottish Mutual Building on Donegall Square South.
Overseas investors
Mr Kenwright heads up Signature Living, a UK property group.
In 2016, he pledged to develop five new hotels in Belfast, including one in the derelict Crumlin Road courthouse.
But none of the projects have yet opened to the public.
Part of his funding model involves selling rooms to overseas investors - at the George Best Hotel they are offered at £80,000 or more.
A breakdown in relations with the council comes two years after the two sides hit it off at an international property conference in France.
Belfast City Council did not comment on Mr Kenwright's letter.
Among his claims is that the courthouse project - also involving a listed building - has been subjected to "an excessive approach to the planning consultation process".
The value of the proposed works is said to be £25m.