George Gilmore murder: Chaos at shooting scene, court told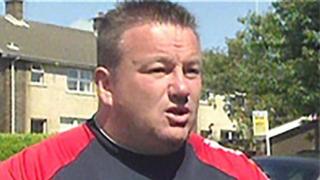 A passenger in a car driven by a high-profile loyalist when he was shot in County Antrim has said there was "chaos" after the attack.
George Gilmore, 44, died a day after he was injured in the gun attack in Carrickfergus in March last year.
Three men on trial accused of murdering him and trying to murder his passengers deny the charges against them.
Giving evidence at the trial at Belfast Crown Court, one passenger said the attack had left him traumatised.
The men on trial are David McMaw, 30, from Starbog Road in Larne, County Antrim; his brother Darren McMaw, 33, from Kilgreel Road in Carrickfergus; and 36-year-old Brian McClean, from Valetta Park in Newtownards, County Down.
The witness who gave evidence on Wednesday was the front-seat passenger in the car Mr Gilmore was driving when he was shot on 13 March 2017.
He told the court that he remembered hearing children and women screaming in the street.
'Started to accelerate'
As he was travelling in the car through the Woodburn estate in Carrickfergus, he saw Brian McClean and David McMaw, who was "smirking", he said.
Mr McClean stepped out of an entry and looked at the car as it was travelling towards him, added the witness.
"Immediately after, I seen David McMaw slightly crouched down behind a wall in the entryway," he said.
"He was pulling down a balaclava over his face but he appeared to be quite flustered.
"I noticed in his right hand he had a handgun - that's when I proceeded to shout: "Gun, gun, gun.'"
Mr Gilmore "started to accelerate" after he heard the warning.
"I believe then we had just enough time to get past him before he started firing the first shots," said the witness.
"I started hearing the gunshots and I froze in panic and tried to hide behind the seat."
The witness said he feared "they were going to try and kill me too".
Describing the scene, he said: "It was chaos.
"I could hear kids screaming, women were screaming.
"A bullet went through a woman's front window and she ran out of her house screaming."
'Reliving the trauma'
He said Mr Gilmore's son, who also gave evidence this week, arrived at the scene and was "in total disbelief and shock".
"He looked in distress - I don't think he wanted to look in the car and see his father."
The witness was then cross-examined by a barrister representing David McMaw.
Asked why he did not tell police who he believed the gunman was, he replied that he was in shock, saying: "It's not every day somebody tries to shoot and kill you.
"It's not every day you just witnessed a man sitting beside you being shot."
He added: "I don't like reliving the traumatic events that happened that day - I'm sure you can appreciate that."
The barrister asked the witness if he was aware of a feud in Carrickfergus before the killing.
"It was being branded a feud but I wouldn't call it that," he replied.
The trial continues.