Stephen McKinney faces murder trial over wife's boat death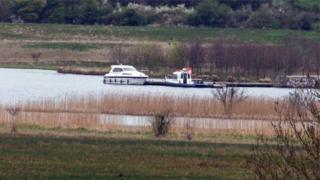 A man is to go on trial accused of murdering his wife during a boat trip in County Fermanagh last year.
Lu Na McKinney, 35, died after entering the water at Devenish Island in April 2017.
Her husband, 42-year-old Stephen McKinney, of The Flax Fields in Lifford, County Donegal, is charged with murder.
He is also accused of unlawful possession of the Class C drug Zopiclone.
During a hearing at Enniskillen Magistrates Court on Wednesday, Mr McKinney was asked if he wished to say anything in answer to the charge or to call any witnesses.
He replied "not at this stage".
He was released on his own bail of £500 to appear at Dungannon Crown Court for arraignment on January 15 2019.