Businessman Derek Tughan must return £12m, says commission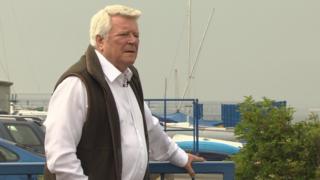 The Charity Commission is demanding that a County Down businessman pays back £12m it said was misappropriated from a housing charity.
More than £13m was taken as loans from family charity Victoria Housing Estates (VHE) for companies in which Derek Tughan had an interest, the commission has said in an interim report.
Money from the charity was used to pay for a chauffeur for Mr Tughan, it said.
Loans of more than £100,000 were made to a relative, said the regulator.
It said VHE had also paid for costs relating to London properties that were used exclusively by former solicitor Mr Tughan and his family.
'Financially vulnerable'
The Charity Commission and VHE's board of trustees is engaged in a legal battle to recover the £12m that they have said was removed from the charity.
In its report, the commission said VHE has been left financially vulnerable, facing a tax bill of almost £3m and likely maintenance costs of more than £21m to bring hundreds of houses back up to standard.
The charity is responsible for more than 400 houses that are occupied by tenants.
Mr Tughan converted two property companies into charities.
He previously told the BBC that meant no tax had to be paid on revenue and no capital gains tax was paid when properties were sold.
He said he had done nothing wrong and that the move by the Charity Commission meant he lost control of a property empire estimated to be worth about £15m.
In a statement, VHE said it welcomed the report and looked forward to the conclusion of the legal action over the return of the money to the charity.
'Sold Mayfair flat'
Its chair Dr Roger Courtney said: "One of the first issues the new board addressed was the lack of information on the properties under its management.
"The board commissioned a stock condition survey, the results of which show that £21m is needed to upgrade all the properties to a decent standard.
"In conjunction with a new CEO and senior management team, we have put in place a proper response repairs service and an extensive work programme to ensure compliance with all relevant regulatory regimes.
"As a result of the former trustees failing to use the charity's assets for solely charitable purposes, the charity has to pay £2.8m to HMRC.
"In order to make this payment, the charity has sold 40 derelict properties in Belfast and a £1.5m flat in Mayfair [in] London used by a former trustee.
"The trustees are working their way through some very challenging legacy issues, including pursuing the return of over £12m removed from the charity.
"The return of this money will go towards the investment needed to upgrade all the properties."
The BBC attempted to contact Mr Tughan, but he was not immediately available for comment.