Northern Ireland schools relying on charities, MPs hear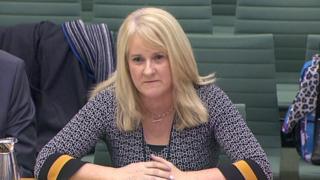 Northern Ireland schools are relying on charities to deliver essential services for children with mental health problems, a committee of MPs has heard.
Heather Murray, from Millington Primary in Portadown, County Armagh, also said that schools were at "rock bottom".
Independent MP Lady Hermon said that education in Northern Ireland was in a "shameful situation".
The comments were made at a Northern Ireland Affairs Committee hearing about education funding.
The Department of Education has told BBC News NI how it has spent £36m received under the confidence-and-supply deal between the DUP and the Conservatives.
The department also confirmed where £35.9m received in a recent monitoring round is to be spent.
Committee hears 'charity' warning
Ms Murray was one of a number of witnesses giving evidence to the committee in Westminster on Wednesday.
"We look to charities in the local community to come in and work with children with challenging circumstances at home [or] mental health issues," she said.
"In the past schools did a lot - we still do - a lot of work for charities, but now we're nearly becoming a charity."
She added: "I had to make a decision not to turn the heat on until November in our school.
"It caused a wee bit of hardship - I feel our schools are moving back in time.
"I'm having to make decisions on things like reducing the staffing - non-teaching staffing, teaching staffing - which has a very direct impact on the children's learning.
"We're having to make decisions based on the cost of education, rather than what we truly believe is the value of education.
"We're at rock bottom, there's stress in our schools."
Ms Murray said that her school, which has more than 650 pupils, had always had a budget surplus but is set to go into deficit for the first time.
'Shameful situation'
Representatives from the Controlled Schools Support Council (CSSC), Council for Catholic Maintained Schools (CCMS), NI Council for Integrated Education (NICIE) and Governing Bodies Association (GBA) - which represents 50 voluntary grammar schools - were before the committee on Wednesday.
As well as Lady Hermon, the DUP's Jim Shannon and Gregory Campbell were among MPs to ask them a series of questions about current budget pressures on education.
Tony McCusker, from the CCMS, said that the most vulnerable children were being affected by schools having less money.
"Children at risk are not getting the services that they need and children with special educational needs are not getting the services that they need," he said.
"That is creating a legacy of children without any serious educational achievement at the end of their period in full-time education."
In response, Lady Hermon said: "It is a shameful situation that we find ourselves in."
Meanwhile, the Department of Education told BBC News NI it had received £36.5m of confidence-and-supply money in its 2018/19 budget.
"£16.5m is specifically to enable current programmes which target severe deprivation to be maintained in the areas of Sure Start, literacy and numeracy, nurture units early years pathway funding and extended schools," a spokesperson confirmed.
"The remaining £20m is to meet other education funding pressures in 2018-19."
The spokesperson added: "While this element is not ring-fenced for specific programmes, it has eased the level of budget reductions that may have otherwise been required had this funding not been received."
The department also confirmed that more than half of an extra £35.9m received in the November monitoring round had already been included in the 2018-19 budget.
"£21.9m of the funding will go towards meeting the department's opening over-commitment," the spokesperson said.
"This funding had already been factored into the department's budget and spending plans from the start of the year."
Of the remaining money, £8m is to be spent on enabling schools to draw down surpluses, £4m is to go towards special educational needs and £2m is to be used for essential health and safety maintenance in schools.