Stakeknife: Alleged IRA spy admits extreme pornography charges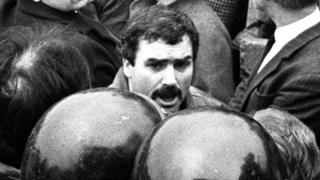 The man alleged to have been the Army's highest-ranking IRA agent has pleaded guilty to two charges of possession of extreme pornographic images.
West Belfast man Fred Scappaticci, 72, appeared at Westminster Magistrates Court on Wednesday.
The court heard the charges related to at least 329 images, including some involving animals.
Magistrate Emma Arbuthnot sentenced Scappaticci to three months in custody, suspended for 12 months.
She said: "You have not been before the court for 50 years - and that's good character in my book.
"I can see you are not a well man at all - you have very serious health issues - and that you live a lonely life."
'Led IRA internal unit'
The charges span from October 2015 to January 2018.
The first charge was that he was in possession of 329 extreme pornographic images - understood to be mostly of women, but also of men and animals, although there were no images of children - on 9 January 2018.
The second charge stated that he was in possession of extreme pornography between 6 October 2015 and 31 January 2018.
Scappaticci, dressed in a blue fleece and green tracksuit bottoms, spoke briefly to enter his guilty pleas to the charges.
The west Belfast man is believed to have led the IRA's internal security unit during part of Northern Ireland's Troubles.
The unit was responsible for identifying and interrogating suspected informers.
Scappaticci has admitted, in the past, to being a republican, but denied that he was an IRA informer.
'Not doing real harm'
An investigation into his alleged activities - known as Operation Kenova - is being led by Chief Constable Jon Boutcher, from Bedfordshire Police.
Speaking after Wednesday's court case, Mr Boutcher said: "Today's conviction came about as a result of material recovered during a search conducted by the Kenova team.
"This result is an indication that wherever criminal behaviour is identified during my investigation, evidence will be presented for the purposes of prosecution.
"Operation Kenova continues to recover evidence in relation to our core terms of reference and as and when it is appropriate to speak further, I will do so."
Westminster Magistrates' Court heard Scappaticci told police he was not sexually interested in animals, and preferred women with big breasts.
He told them he was "not doing anyone any real harm" and said he had depression.