Jim Donegan: School shooting scene 'covered by coats'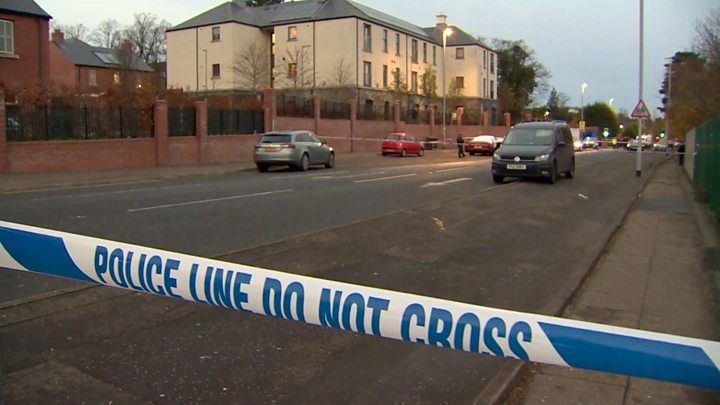 The car in which a man was shot dead outside a school was covered in coats by teachers so pupils could not see the murder scene.
Jim Donegan was killed while waiting for his 13-year-old son outside St Mary's Grammar School in west Belfast.
He was shot several times, including in the head, on Glen Road on Tuesday afternoon. Police believe he was shot by a lone gunman wearing a hi-vis vest.
The school's interim principal said pupils "had to walk past the scene".
St Mary's Grammar is closed on Wednesday.
Fiona Crookes, the school's interim principal, told BBC's Good Morning Ulster programme: "Our primary concern at that stage was that they wouldn't see what we had to see.
"We took off coats, cardigans and things like that and put them round the windows of the car so they couldn't see."
Mrs Crookes said Mr Donegan's son soon became "our priority", as he walked down the lane to meet his father.
'Had to remain calm'
"We got him, we brought him back to school and the police let his mum through the cordon," she said.
"His poor wee face was shocking - it is absolutely horrific."
Mrs Crookes said staff "were very much in control of the situation".
She said: "It's not something you have to do every day, thankfully, but you go into a mode where you realise the safety of the pupils is paramount.
"We had to remain calm and get them away from the scene immediately.
"We had parents who were parked on the road who then couldn't get to their children because of the cordon so we had to manage that too, but the parents were great."
'People are traumatised'
Pupils will be offered counselling when the school reopens on Thursday.
Police said a child could have died or been seriously injured child in the shooting.
Ch Supt Jonathan Roberts said that the gunman, who had the word "Security" printed on the back of his jacket, left the scene on foot.
Police want to hear from anyone who saw the red Porsche Panamera being driven by the victim in the area, who saw the gunman in the hi-vis jacket or who might have dashcam footage that could help in their investigation.
People Before Profit MLA Gerry Carroll said that people had been "traumatised at the fact that this can happen in open daylight in a vicinity where there are hundreds of kids coming out of schools".
"I've spoken to a lot of parents who are saying their kids are traumatised - and that's no exaggeration - by what they saw and what they heard.
"I think there needs to be an understanding that people who were in the area at the time and saw this need some support, some intervention.
"I've spoken to people in the school as well who are deeply worried."