Union Theological College standards at risk, watchdog warns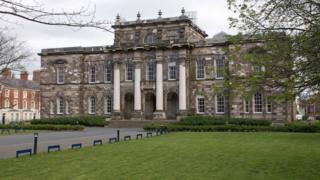 Academic standards at the Union Theological College (UTC) are potentially "at risk" in a number of areas, a watchdog has warned.
The Quality Assurance Agency (QAA) monitors standards in higher education institutions across the UK.
The college is run by the Presbyterian Church in Ireland and teaches theology to Queen's University students.
A spokesperson for UTC said it had made "significant progress" but "there is still some work to be done".
The QAA report into a monitoring visit to UTC carried out in October has just been published.
It has 204 students at present, 173 of whom are studying for theology degrees at Queen's while 31 students preparing to enter the Presbyterian ministry are studying on courses run by the Presbyterian Theological Faculty Ireland (PTFI).
'Quality at risk'
The watchdog's inspectors looked at a number of aspects of teaching, learning and assessment specifically related to the PTFI courses.
The QAA report said that the college had made progress since a previous monitoring visit in 2017 but "further improvement is required".
It said, for instance, that there had been delays "in fully and formally documenting the academic framework for PTFI programmes", which had "the potential to put academic standards at risk".
Further, senior staff members had not fulfilled a "stated responsibility for monitoring and reviewing teaching, learning and assessment across all pathways and within all courses or modules".
"This weakness in the college's maintenance of academic standards has the potential to put academic standards and quality at risk," it continued.
'Potential to put academic standards at risk'
The QAA said that the college did have "robust documented processes" for assessing students.
It also said that students received helpful and detailed feedback on their assignments.
However, it said that a lack of ways to respond to issues raised by external examiners for PTFI exams also "has the potential to put academic standards and quality at risk".
External examiners are staff from outside an institution who independently monitor some exams and coursework to ensure that marking is fair and consistent.
One external examiner was quoted in the QAA report as stating that some exam scripts "had no marks or marker's comments and that she had not been provided with the marking criteria".
A spokesperson for Union Theological College said they were confident it would address the matters raised by the QAA inspection.
"We welcome the fact that the QAA said in their report that the college is making progress with continuing to monitor, review and enhance its higher education provision since the October 2017 monitoring visit, but further improvement is required," they said.
"The areas which the college is working on include terms of reference and membership of each of its academic committees, a robust protocol for the appointment of Presbyterian Theological Faculty Ireland external examiners, and clear evidence of student involvement in all decisions related to PTFI and the ministry training pathway."
Queen's University is currently conducting a separate review of its relationship with the college, which is expected to be completed in the near future.
In a statement to BBC News NI, a Queen's spokesperson said: "The university has received a copy of the QAA Educational Oversight report and is considering the findings. We have no further comment to make."