West Belfast: Victim shot by lone gunman in hi-vis vest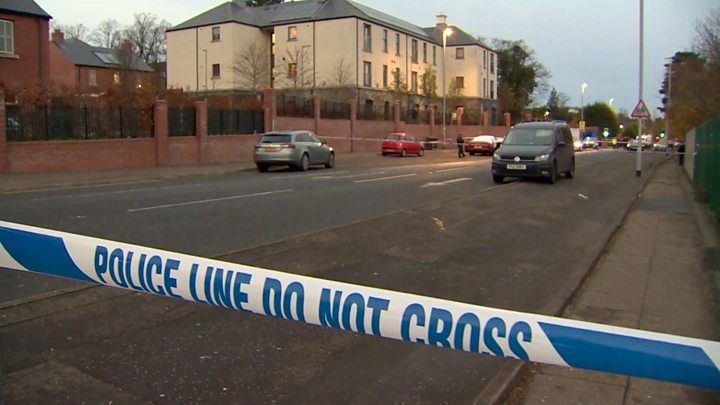 A father waiting for his son outside a west Belfast school was shot dead by a lone gunman in a hi-vis vest, police have said.
The victim, in his 40s, was hit several times including once in the head as he sat parked outside St Mary's Grammar School on the Glen Road on Tuesday.
The shooting happened at 15:15 GMT as children left three nearby schools.
Police said they could also have been dealing with a dead or seriously injured child.
Chief Superintendent Jonathan Roberts said that the gunman, who had the word "Security" printed on the back of his jacket, left the scene on foot.
He called it a "disgraceful murder" carried out in front of young children.
"There is clearly going to be a significant impact on children. They will be traumatised," he said.
"It will also have an impact on teachers and the wider school community. The community of west Belfast do not deserve this."
He added it would be inappropriate to suggest a motive at this stage. But he said the involvement of dissident republicans was one option that police would keep open.
Local people reported hearing five or six shots shortly after 15:00 GMT.
Police forensic officers were called to the scene and the area was cordoned off.
In a statement, St Mary's Grammar said the man who was killed was collecting his son, a pupil at the school.
"The thoughts and prayers of the principal and all the staff are with our pupil and his family at this very sad time."
The school will be closed on Wednesday 5 December and pupils will be offered counselling when it reopens.
The nearby Christian Brothers school will also be closed.
West Belfast MP Paul Maskey, Sinn Féin, said the shooting was "uncalled for and unjust".
"There are three schools in the vicinity and they were getting out when this happened.
"It's a very sad sight and no-one wants to see scenes like this on our streets," he said.
West Belfast SDLP councillor Tim Attwood said: "It is absolutely sickening that a gun was fired in the vicinity of both a primary and secondary school in west Belfast today.
"A number of pupils witnessed this fatality and are understandably very disturbed and frightened after this reckless act occurred nearby the school gates.
"There is absolutely no place for this in 2018; this madness belongs in the past and we cannot allow it to once again become our normality."
Gerry Carroll, People Before Profit, said: "News that somebody has been shot several times on the Glen Road is horrible and deeply concerning and should be condemned by everybody.
"It is especially worrying given the amount of children and young people in the area at that time, that somebody sees fit to pull a gun and open fire in the middle of the day."
Ulster Unionist justice spokesperson Doug Beattie added: "Nobody has the right to bring a gun onto the streets and act as judge, jury and executioner and there can be no justification for this brutal act.
"To murder a man as he waits to collect his son from school and in an area where many children were present, displays a particular callousness and recklessness.
Police want to hear from anyone who saw the red Porsche Panamera being driven by the victim in the area, who saw the gunman in the hi-vis jacket or who might have Dashcam footage which would help in their investigation.