NI house building at highest for years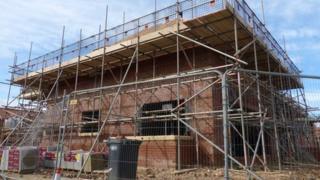 The number of houses built in Northern Ireland increased by almost 10% in 2017-18, according to the latest official figures.
There were 7,100 housing "completions", up from 6,465 the previous year.
That was the highest number of houses built in any year since 2010.
The figures, compiled by the Department for Communities, show 5,886 private homes were built while 1,214 were developed by the social sector.
The upward trend continued in the first two quarters of this financial year.
Between April and June 2018, the number of quarterly completions was above 2,000 for the first time since 2010.
The number of new housing "starts" was down slightly in 2017-18.
A housing start refers to the beginning of work on a residential property, such as the laying of foundations.
There were 7,517 starts, compared to to 7,725 the year before.
In 2005, the peak year for housing development in Northern Ireland, there were more than 15,000 starts.