Royal Victoria Hospital staff asked not to drive to work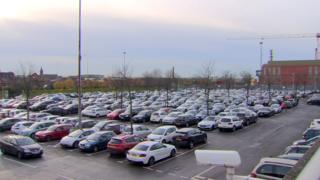 Staff at the Royal Victoria Hospital in Belfast are being encouraged to use alternative transport to get to work.
Patients and visitors are also being asked to avoid coming by car when possible.
The Belfast Health Trust is trying to address a big shortage of parking at the hospital.
Staff are allocated more than two thirds of the existing spaces at the Royal.
Patients and visitors who travel to the hospital from many parts of Northern Ireland often endure long delays and queues while waiting for a parking space.
"Congestion on the Royal Hospital site is an ongoing issue, as unfortunately at peak times, demand exceeds the existing car park provision," said the Belfast Health and Social Care Trust.
The trust estimates that it currently takes 30-50 minutes to access a public car parking space during peak times between 10:00 to 12:30 and from 13:30 to 15:30.
There are about 2,700 parking spaces at the Royal and BBC News NI has learned that staff are allocated 70% of all the existing spaces.
The trust thinks reducing the number of staff travelling to work by car will increase the car parking provision for patients.
It has a number of incentives aimed at getting staff to use alternative ways of getting to work, including public transport and cycle-to-work and car share schemes.
"We are currently reviewing our car park provision and traffic management arrangements to better meet the needs of everyone accessing our services," a spokesperson said.
"This review includes an assessment of the location and design of car parking provision."
More than 90 new parking spaces will be provided at the Royal between now and March.
The trust is also preparing a business case for a new multi-storey car park by 2021.
It plans to introduce new card payment facilities next year, to replace the existing cash only system.
But these future plans will not solve the current problems.
A more immediate solution depends on many hospital employees, as well as patients and visitors, giving up the practice of travelling to the Royal by car.