Soldier 'embellished' Ballymurphy shooting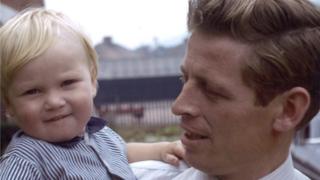 A soldier who shot a man dead in Ballymurphy in 1971 has been accused of embellishing his accounts of events.
But the man, known as M3, claimed the Royal Military Police embellished his original statement.
Soldier M3 has been giving evidence for the second day at the inquest into the death of Edward Doherty.
Mr Doherty, 31, was shot dead on 10 August 1971 near a barricade across the Whiterock Road in Ballymurphy during the Army's Operation Demetrius.
This was the introduction of internment - a policy of detention without trial introduced by the government in 1971 during the Troubles.
'No, no, no'
A barrister for the Doherty family told M3: "It's you that's been doing the embellishing."
Later she said: "You're building a case by embellishing what happened."
"No, no, no," M3 replied.
The barrister had asked about the military police special investigators, saying: "You think they invented portions?"
The former soldier said: "Yes, yes I do."
She added: "Two special investigators made parts of it up?"
"Yes," said the soldier.
M3 said that the investigators added the names of streets and roads which he would not have known, and got the position of the door on his cab wrong.
The barrister had been pointing out inconsistencies between his statements made in 1971 and in later years.
M3 has denied claims that he made the actions of a man at whom he fired a shot seem more aggressive and belligerent to support his decision to open fire.
He had earlier agreed that it was possible he missed that man and instead hit a bystander.
Later, M3 was asked why he was now saying he only had five rounds of ammunition available to him, when on many earlier statements he had agreed with investigators that he had had 30 rounds. Sterling submachine gun magazines held 30 rounds at most.
'It was a joke'
M3 said he had recently remembered that sappers - private soldiers responsible for engineering tasks such as building and repairing roads or bridges - were only issued with five rounds for self defence, and is now adamant that is all he would have had.
"Every sapper in my troop, it was a joke that we had five rounds," he said.
The court heard that the Ministry of Defence had not provided evidence of a five-round policy for Royal Engineers.
M3 said that after shooting a round at a rioter, he later fired a burst at a gunman he spotted on waste ground off to the side of the barricade at which he was working.
No other statements from soldiers or civilians over the years mentioned this gunman.
Soldier M3 told a barrister for the Doherty family: "I'm sure I hit the person, but I could have missed. In my mind I had shot the petrol bomber, but I'm willing to concede that I could have missed."
'I couldn't have changed it'
But the barrister had another interpretation - that this concession allowed him "to continue to justifying opening fire, but it means you don't have to stand over the killing of Edward Doherty, because it could have been a mistake".
M3 said twice that he did not understand what the barrister was driving at.
M3 also confirmed to the court that he had convictions for stealing money and had earlier been discharged from the Royal Navy for taking a staff car.
Returning to the shooting of Edward Doherty, the Doherty family's barrister asked: "If you could turn back time, what would you do?"
"I don't know what I would do," M3 said. "It was just the times. It was so devastating on Edward Doherty's family, it was a pity that it had to come to this situation. But I couldn't have changed it, changed what happened."
On Monday, he had told the court: "I can't even begin to think how it affected them, horrendous.
"I just can't believe, I just can't understand how… for a mad 30 seconds to last a legacy like this."
The Doherty family said none of the statements amounted to an apology.
'It doesn't get any easier'
Mr Doherty's sister Kathleen McCarry said all the family want is to prove their family member was innocent.
"Eddie was innocent and we know he was," she said.
She said that she had thought Soldier M3 "had a bit of compassion in him, but I don't feel that way this morning".
"I don't feel that he's being very compassionate towards Eddie or any of our family.
"It's 47 years and it's very hard, it doesn't get any easier," she said.
"My mother went to her grave seven years later and the priest that buried her said he should have buried her the day Eddie was buried, for she died when he died."