Child cruelty: Rise in number of reported cases in NI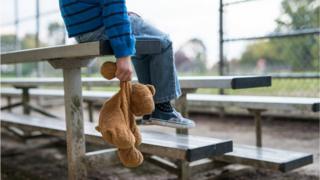 There were almost 190 more incidents of child cruelty reported in Northern Ireland last year compared to 2016/17, according to police data.
In 2017/18, the number reached 579, up 184 from the previous year.
Child cruelty cases include when a parent or carer wilfully assault, ill-treat, neglect, abandon or expose a child under 16 to serious harm.
The figures are included as part of the Police Service of Northern Ireland's (PSNI) recorded crime annual trends.
They show that since 2013/14, when 184 cases of cruelty were reported, there has only been one year when the overall number of recorded child cruelty cases did not increase.
The National Society for the Prevention of Cruelty to Children (NSPCC) said in the period 2017/18, they received 19,937 calls.
The organisation said three quarters of those calls were urgently referred to police or children's services.
Neil Anderson, head of the NSPCC in Northern Ireland, said the increase in reported crime was concerning.
"It is encouraging that victims are prepared to come forward," he added.
"Whatever the reasons for the increase, child neglect is everybody's problem and we all need to be aware of vulnerable children."
Det Supt Anne Marks, from the PSNI's Public Protection Branch, said the police were "committed to working with out partner agencies to help keep children and young people safe".
"While the figures show an increase over the five-year period, we believe this rise can be attributed to a number of reasons, including strong collaborative working between PSNI and health and social care trusts," she said.