Ballymurphy inquest: Soldier's shot 'may have killed bystander'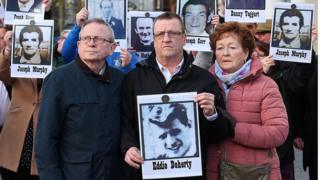 A former soldier has said it is possible that a shot he fired inadvertently hit and killed a bystander at Ballymurphy.
The man, known as M3, was giving evidence at the inquest into the deaths of 10 people almost 50 years ago.
He said he had been aiming at an individual who was preparing to throw a petrol bomb at him from on top of a barricade on Whiterock Road.
The evidence relates to the death of Edward Doherty on 10 August 1971.
Ten people died in the Ballymurphy area in west Belfast over three days that month.
On Monday, the inquest heard that the ex-soldier, formerly known as Soldier B, still thinks about the man he shot dead.
He was giving evidence behind a screen and his name has not been made public.
'Still think of victim'
The court first heard a detailed statement he gave in October and also a later statement he gave to the Historical Enquiries Team.
Two members of Edward Doherty's family were able to see witness M3 in court.
In a statement made by the former soldier in recent weeks, he said he now knows more about the man who died.
"Up until then, he was just a man but now I know that he had sons, daughters and a wife," he said.
"I still think about that and it upsets me to this day."
The soldier told how he had been in a military tractor trying to clear a barricade across Whiterock Road, while stones, acid bombs and petrol bombs were being thrown at him.
He was a sapper in the Royal Engineers, attached to the Parachute Regiment for a few days with the specific job of clearing barricades.
He said at one point during the job on Whiterock Road an explosive device had lifted the cab of his military tractor briefly off the ground.
He described a man throwing two petrol bombs at his vehicle and says he saw him climb the barricade and attempt to throw a third petrol bomb at him.
In the days immediately afterwards, he told the Royal Military Police he could positively identify a photograph of Edward Doherty's body as that man.
M3 said he felt his life was in danger and decided he needed to defend himself.
He says he used his Sterling submachine gun, which contained 5 rounds, and fired a single shot at the man's chest, seeing him fall back.
He also described later firing a burst of four shots at a man with a rifle running on nearby waste ground.
M3 was later hit by a missile in his cab, he said, and was taken by other soldiers to hospital, where he discovered he was not badly hurt.
Edward Doherty's family believe he was an innocent bystander.
Awarded Military Medal
New witnesses present at the scene that day have come forward in recent months.
They have told the inquest that Edward Doherty was some distance away from the barricade, facing away from it and had not been throwing petrol bombs at any time.
It emerged in court that the soldier that been awarded the Military Medal for his actions that day and had attended an investiture at Buckingham Palace.
He also said he sometimes had flashbacks about the incident.
Throughout his first session of evidence, Edward Doherty's brother John and has sister Kathleen McCarry watched the former soldier give evidence and read transcripts of his statements.
M3 had told the Historical Enquiries Team "there was no intention on my part to kill Doherty for any other reason than self defence".
Later the court watched a clip from a BBC Panorama programme in which the soldier had taken part.
The picture had been adjusted so his face was not identifiable.
In it, the soldier described firing at the two men during the incident and claimed that the man with the rifle had fired a shot that hit his cab.
M3 told the court that he could not remember taking part in the programme, nor why or when he had participated.