Northern Ireland 'faces cliff edge' if welfare help ends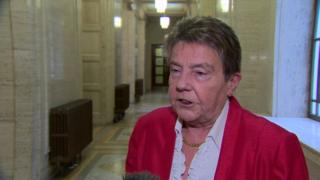 Northern Ireland faces an escalation in hardship if planning is not made for the end of a mitigation period for welfare reform, it has been warned.
The mitigation period stops at the end of March 2020.
It was passed by the Northern Ireland Assembly with cross-party support and has been running since 2016.
Prof Eileen Evason, chair of the group who put together the Northern Ireland mitigation report, said NI could "go over a cliff edge".
The mitigation was created to soften the impact of UK-wide welfare reforms in Northern Ireland and help those most affected by them.
"It [mitigation] will come to an end at the end of March 2020 - that is a very significant date," Prof Evason told BBC NI's On Your Behalf.
"At that point all of the help that we've been able to give people in Northern Ireland, which has not been available for people in GB will come to an end.
"We will go over a cliff edge.
"So what will happen unless we start to think and take action now, work out what we're going to put in place come March 2020, we will see an escalation of hardship in Northern Ireland."
Prof Evason said in the absence of a Northern Ireland Executive she would have to talk to Secretary of State Karen Bradley about the issue.
Kevin Higgins of Advice NI said the mitigations should not be stopped.
"Very clearly the mitigations need to continue and we would like and recommend that actually they be strengthened and expanded," he said.
In a statement the Department for Communities said: "The legislation made on mitigation payments following the Fresh Start Agreement provides that mitigation payments will end in March 2020.
"Any decisions on the provision of any future mitigation measures from April 2020 will be a matter for incoming ministers.
"In the meantime the department will continue to operate and plan on the basis of the existing agreement and legislation."