Karen Bradley: Brexit deal will 'protect jobs' in NI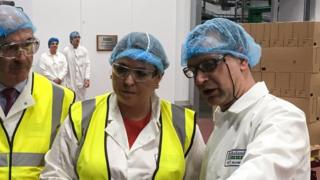 The Secretary of State Karen Bradley has continued her tour of towns to promote the merits of the Brexit withdrawal agreement.
On Friday morning she visited Newtownards and Bangor.
She said grassroots unionists were wrong to think that SDLP and Sinn Fein support for the Brexit deal must mean it is bad for the union.
Speaking to a group of small businesses in Bangor, she said the Brexit deal would "protect jobs".
Mrs Bradley said if the agreement was rejected, the negotiations would "go back to square one".
"Voting down this deal would leave us worse off," she added.
Yesterday she visited Comber and Lisburn - all the places she has visited have been in constituencies held by unionist MPs.
Mrs Bradley said the Brexit deal was good for everyone in Northern Ireland.
She insisted that there was more to the visits than a "charm offensive" to increase support for the Brexit deal.
She toured a dairy on the outskirts of Newtownards and went to shops in the town centre.
She said she understood concerns felt by small businesses as her family run a pub in Staffordshire.