Presbyterian minister: Church must do more for people with HIV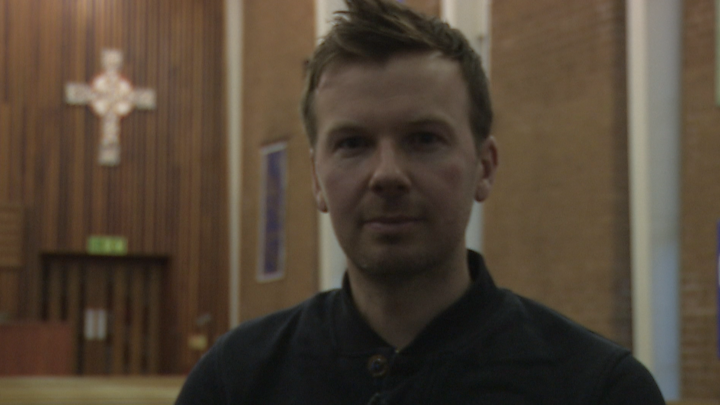 A Presbyterian minister says the church needs to do more to support people living with HIV in Northern Ireland.
There are more than 1,000 people in Northern Ireland with HIV. Eighty four new cases were diagnosed in 2017.
Of the new cases, 54% were men who had sex with other men (MSM) while just under one third occurred through sex between men and women.
Under current rules, those in a same sex relationship cannot be full members of the Presbyterian Church in Ireland.
'I can't live with my conscience if I don't'
However, Belfast Presbyterian minister, the Reverend Jonathan Frazer, said the church should be a place of "refuge and hope" for people living with HIV in Northern Ireland.
"I can't help but feel I have to speak out on behalf of myself and my church, I can't live with my conscience if I don't," he said, in an interview with BBC News NI, ahead of World Aids Day on Saturday.
Mr Frazer is the minister of Garnerville Presbyterian Church in east Belfast.
It is the first time he has spoken publicly about the issue.
"I understand that some people who are living with HIV might be surprised that a Presbyterian minister is speaking out on this issue, in light of all that has happened earlier this year," he added.
"They might see the church as a closed place for them.
"But I want to tell them it is not, they are welcome and it is a place that they can belong."
The Presbyterian Church is the largest Protestant church in Northern Ireland, with more than 200,000 members across the island.
'The church is for you'
In June this year it voted to loosen its ties with the Church of Scotland due to its more liberal attitude to same-sex relationships.
Under current rules those in same sex relationships cannot be full members of the Presbyterian Church in Ireland.
A number of politicians, ex-clergymen and church members have previously spoken out against the decision.
"I adhere to the laws of the Presbyterian Church and those decisions have already been made, but I still feel a sense of hurt and sadness over how it was all carried out and the results of it," Mr Frazer said.
"Unfortunately for many people, their lasting memory of the church will be of those decisions, but I don't feel I would be doing my job if I didn't speak up and show people that there are some within the church who are still thinking about these issues."
Mr Frazer said that there were many myths and misunderstandings around HIV, adding those stereotypes "need to be broken down".
"I think it's important that faith communities and we as a church speak towards that," Mr Frazer said.
"To anyone watching this who is HIV positive in Northern Ireland, I'd like to say to them the church is for you, no matter what you think or what you've heard, the church is more than a name, it's the people who are within it and those people are for you."
Isolation
Mr Frazer said he accepted it would take time to change perceptions.
"I can understand why people may think there's a contradiction and I feel that very personally as well, because although those decisions were made they don't absolve the church of any support for anyone who seeks to attend or walks through the doors of a Presbyterian church," he said.
"Especially those living with, or affected by, HIV who can feel that sense of isolation, the church should be a place of hope for them.
"While any same sex couples affected by this issue can't at the moment be full members of the church, they should find security within the walls of a Presbyterian church and certainly within my own church in Garnerville."
His comments come as the latest statistics from the Northern Ireland HIV surveillance report show a 15% increase in the number of people getting tested in a healthcare setting for HIV in 2017.
Positive Life chief executive, Jacquie Richardson, welcomed Mr Frazer's comments and said the stigma surrounding HIV and AIDS in Northern Ireland is still at an unacceptable level.
"It's true that our MSM community is disproportionally affected, however I think we can't allow the statistics to perpetuate the myth that this is a gay man's disease. Around 40% of people living with HIV in NI are from the heterosexual community," she said.
"I'm thrilled that Jonathan has decided to speak out on this issue. He's giving a very powerful message and Garnerville shouldn't under-estimate the positive impact that this will have on anyone living with HIV and how far this goes in terms of challenging the unique stigma associated with the condition."
Mr Frazer said he hoped that speaking about the need to support people with HIV will raise more awareness of the issue within the church and across Northern Ireland.