Ballymurphy inquest: Witness felt 'duty' to come forward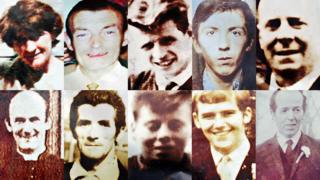 A witness at the Ballymurphy inquest has said he believed it was his moral duty to come forward.
Martin McLaughlin, now in his late 50s, has lived in England for nearly 30 years.
He told the court he was just nine years old when he witnessed the shooting of Edward Doherty on the Whiterock Road in August 1971.
He explained he saw an appeal for witnesses on the television in 2016.
Ten people were shot over three days in August 1971.
The shootings occurred amid disturbances sparked by the introduction of internment without trial in Northern Ireland.
"I felt duty-bound from a moral point of view," Mr McLaughlin said.
"If my statements could help in any way I should do so."
Over the previous 45 years he had not made any statements about the incident.
Mr McLaughlin described his mother and sister taking him to the upstairs room of their house - outside which the shooting happened - as the Army moved up Whiterock Road.
He explained that a crowd in front of their home was opposite a barricade which the arm was trying to clear.
He remembered some stone-throwing along with two or three petrol bombs.
He also described the sound of rubber bullets being fired, and then a gunshot, followed by three of four further shots.
Who were the victims?
Father Hugh Mullan, 38, and Francis Quinn, 19, were shot in an area of open ground behind Springfield Park
Daniel Teggart, 44, Joan Connolly, 44, Noel Phillips, 19, and Joseph Murphy, 41, were shot near the Henry Taggart Army base near Springfield Park
John Laverty, 20, and Joseph Corr, 43, were shot at separate points at the top of Whiterock Road
Edward Doherty, 31, was shot at the corner of Brittons Parade and Whiterock Road
John McKerr, 49, was shot outside the old Corpus Christi Parish
Mr McLaughlin said he had been watching two men talking below their window, one who had his back to the barricade.
One of them looked over his left shoulder, he said, jerked suddenly and fell forward, a pool of blood forming around him.
"I didn't want to see it." He told the court.
'Go to the grave'
"I wanted to unsee it. I wanted the guy to get up and run away. I didn't want him to be hurt."
In his initial statement he had written, " I will go to my grave with the belief that Edward Doherty was an innocent bystander. He was an innocent man who was shot for no reason."
He said Mr Doherty was standing about 30 metres from anyone throwing petrol bombs.
Earlier Mr McLaughlin had spotted a crate of petrol bombs sitting on the far side of the road opposite his house.
A barrister for the Ministry of Defence asked him about how reliable the memory of a nine year old boy might be almost 50 years later.
Mr McLaughlin replied: "It's not something that you forget easily though. There are certain things you will never forget."
He did accept that he had not known Edward Doherty and knew only that he had seen a man being shot.
But he said he knew no one else had been shot in the area that day.
'Front row seat'
Under cross examination he agreed he had not seen who had fired any shots nor had he seen any soldiers across the barricade.
The barrister explained to him that other accounts of what happened had differences from his, but Mr McLaughlin insisted he could only remember what he remembered, and maintained his account.
A barrister for the family of Edward Doherty suggested he had "had a front row seat" of the incident.
"That would be a good way to describe it" he said.
He concluded that before 2016 "I felt guilty I'd never actually approached anybody. I know what I saw and it probably has affected me the older I get."
Anonymity
A soldier due to give evidence at the inquest will be granted anonymity and screening from the public whilst in court.
"Witness M3" who will give evidence about the death of Edward Doherty will, however, be visible to five agreed members of Mr Doherty's family while he does so.
He is expected to give evidence next week.