Helen Waddell: The influential author time forgot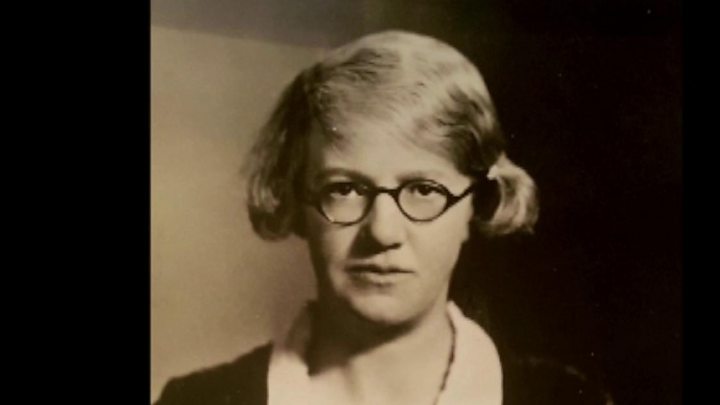 She is the writer from Northern Ireland now viewed as one of the founders of historical fiction.
Her peer group included George Bernard Shaw, Virginia Woolf and WB Yeats - all of whom admired her work.
Yet she has fallen into obscurity and today is largely forgotten.
So what happened to Helen Waddell?
Author Kate Mosse attempts to answer this question in a new documentary about the life of Waddell, telling the story behind her ground-breaking, and for the time, shocking historical novel Peter Abelard.
Abelard was a medieval theologian who had a passionate affair with Heloise, a scholar.
When it was discovered, they were separated and banished and Abelard was castrated. They never met again.
'Sexual congress'
Mosse, herself a multi-million selling author, cites Waddell as a major influence and inspiration.
"Like me, Waddell was fascinated by stories of the past, real historical characters who lived and loved centuries ago," she said.
"I was thirteen when I first read her novel Peter Abelard and it has stayed with me ever since. Her writing inspired me and years later I was to write novels set in medieval France too.
"This tragic love affair [between Abelard and Heloise] was to become her lifelong obsession and in a strange way would influence the course of her own life."
Waddell's Peter Abelard novel was published in 1933 and became a surprise and influential bestseller.
Mosse believes Waddell's achievement has been unfairly overlooked.
"Helen Waddell was a pioneer in the now flourishing world of historical fiction, yet today she is barely remembered," said Mosse.
Historian Juliet Gardiner said the novel's success was very much informed by the era in which it was published.
"I think it struck a chord really because religion played a much larger part in the life of the 30s than it does today, when we are pretty much a secular society," said Ms Gardiner.
She said she would not be surprised to learn it had been quietly circulated by readers who had been tipped off that it contained content of a nature, which at that time could be considered explicit.
"And Peter Abelard had sexual congress with a person who was a great deal younger than he was - and a nun," she explained.
"I think that would be very shocking."
'David Bowie'
Ms Gardiner imagined a reader's reaction as: "I bought this book and I thought it was going to be about monks and nuns and, my goodness, there is sex in it.
"So it really was not what I was expecting at all."
Medieval historian Sylvain Piron said it helped that Abelard had some star quality.
"Peter Abelard was somehow Jacques Derrida and David Bowie at the same time, so he was a great philosopher and also a famous singer," he said.
Some clues as to why Waddell was so fascinated with the story can be found in her own upbringing.
She was born into a family with a Presbyterian tradition. Her father, Hugh, was a minister at the more progressive end of the spectrum.
He was a missionary in Spain, China and Japan, where Waddell was born, the youngest of 10 children, in 1889.
His liberal Presbyterianism left a strong impression on her.
Her mother died when she was three and when her father died in 1901, she and a sister were sent to Belfast to live with their stepmother Martha.
Mental illness
The upbringing there was considerably more narrow and conventional, but Waddell got a progressive education at Victoria College and went to Queen's University in 1908.
It was while she was there that she first encountered the story of Peter Abelard.
However Waddell had to put her academic career on hold for eight years to care for her stepmother.
When she died in 1920, Waddell resumed her studies in Oxford and Paris, where she carried out more in-depth research into his life.
She returned to England in 1925 and got a publishing contract. Two years later her book Wandering Scholars was published and was a great success.
She then turned her attention to the book about Abelard, which was to have been the first of a trilogy, until ill-health intervened.
Mosse said Peter Abelard was the beginning of modern historical fiction, but that Waddell's writing career was cut short by mental illness.
"Alzheimer's destroyed one of the most brilliant minds of a generation," she said.
"For two decades she cut a suffering, confused and forgotten figure."
Waddell eventually moved back to Northern Ireland and lived with her sister until her death in 1965.
"Her name is etched in stone in Writer's Square in Belfast. Why has she fallen into obscurity?
"She deserves not only to be remembered, but honoured and cherished too," says Mosse.
Helen Waddell: Living in the Past, will be on BBC Two NI on Sunday at 22:10.