Solo rower Shirley Thompson turns back from Atlantic bid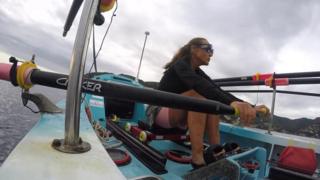 The Belfast woman trying to become the oldest woman to row solo across the Atlantic is heading back to shore after only three days.
Shirley Thompson, 60, is hoping to restart her voyage of about 3,000 nautical miles from Gran Canaria to the Caribbean in the next few days.
She arrived back in Gran Canaria on Wednesday evening.
She said she was forced back to port by a malfunctioning tracker.
"It made more sense to come back here and sort the thing out," she said.
"If I went off and the thing broke in another couple of days, then I would be 90 days at sea and nobody would know where I was."
'I'm loving it'
Ms Thompson said she intends to take to the ocean again on Friday if a new tracker arrives in time.
She described her three days on the ocean as "amazing" telling the BBC of her encounters with a shark, a whale and dolphins.
"I'm loving it," she added.
Until recently Ms Thompson could not swim but she is an experienced endurance runner and extremely fit.
She started her attempt on Monday - it was expected to take three months to complete.