Police Federation calls for 'urgent action' on Brexit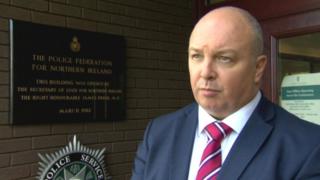 "Urgent action" is required on Brexit security issues, the Police Federation for Northern Ireland (PFNI) has warned.
"We are calling for certainty, direction and clarity around Brexit and what it will mean for policing in NI," the organisation said.
The group has previously asked for an additional 400 police officers for border operations after Brexit.
On Wednesday, chairman Mark Lindsay said there needed to be an "injection of urgency" into the process.
The Police Federation is a representative body, similar to a trade union, but without the right to resort to industrial action. It represents all ranks up to and including chief inspector.
'Decisions overdue'
"The political turmoil around Brexit is for politicians to resolve, but what we are saying is accelerate contingency planning to prepare for what happens from 1 April," Mr Lindsay said.
"We need hundreds more officers if the UK crashes out of the EU without a deal. The case has been previously made and decisions are overdue.
"We simply cannot produce 200 or 400 officers overnight and if government approval for an increase the size of the PSNI isn't forthcoming, we will be left to confront major gaps in service provision as we race to meet requirements in a hard Brexit scenario".
He called on the government to make policing in Northern Ireland a "major priority" and asked politicians to "get it sorted without further procrastination".
The UK is leaving the EU on 29 March next year and while there is a Brexit deal on the table, it faces strong opposition and is unlikely to win Parliament's backing when it comes before the Commons on 11 December.