Ballymurphy inquest: Army 'threw victims into a vehicle like animals'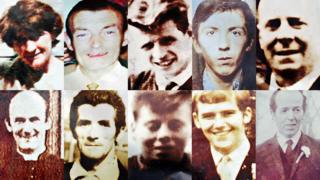 People shot dead in Ballymurphy in west Belfast almost 50 years ago were thrown into the back of an Army vehicle "like animals", an inquest has heard.
The Ballymurphy inquest has been hearing preliminary evidence about the deaths of some of the victims.
Ten people were shot over three days in August 1971.
The shootings occurred amid disturbances sparked by the introduction of internment without trial in Northern Ireland.
Warning: This article contains offensive language.
Among those killed were a priest trying to aid one of the wounded and a mother-of-eight.
At the time, the Army said those killed were either IRA gunmen, or were caught in the crossfire between soldiers and gunmen.
The families of those who died say they believe the inquest will show their relatives were innocent, and were targeted deliberately.
A new inquest opened earlier in November following a campaign by relatives.
On Monday, a statement from an eyewitness, the late Desmond Crone, was read out at the inquest.
Mr Crone had told a previous inquest in 1972 of his experiences when several people were shot close to him opposite an army base on the Springfield Road.
He had gone there with his wife's cousin, Joseph Murphy, to look for his son.
He described how soldiers in the Henry Taggart Memorial Hall had suddenly opened fire on them, and how he had heard both Joseph Murphy and Joan Connolly calling out that they had been hit.
Who were the victims?
The families of those killed in Ballymurphy in 1971 have been giving moving accounts of their relatives since the inquest began in November.
The victims were:
Father Hugh Mullan, 38, and Francis Quinn, 19, were shot in an area of open ground behind Springfield Park
Daniel Teggart, 44, Joan Connolly, 44, Noel Phillips, 19 and Joseph Murphy, 41, were shot near the Henry Taggart Army base near Springfield Park
John Laverty, 20, and Joseph Corr, 43, were shot at separate points at the top of Whiterock Road
Edward Doherty, 31, was shot at the corner of Brittons Parade and Whiterock Road
John McKerr, 49, was shot outside the old Corpus Christi Parish
You can read extracts from the statements given by the victims' relatives here.
After they had taken cover from persistent gunfire whilst lying on the ground for an hour, Mr Crone said an Army Saracen - an armoured personnel carrier - entered the field and soldiers had got out.
He said he heard soldiers saying: "We have got five," and: "Kill the bastards."
He said they then lifted five of the dead or injured over to the Saracen, and "threw them into the back like animals".
'Hands swabbed'
Joseph Murphy and Joan Connolly both died from their injuries, as did Noel Phillips and Daniel Teggart, shot in the same incident.
Mr Crone's statement said that whilst there had been shooting and stone-throwing in the general area that evening, none had been coming from the field in which he and several other people had been standing.
The court also heard that the hands of those shot had been swabbed for traces of lead, but none had been found.
Army statements at the time said those killed in Ballymurphy were gunmen or gunwomen, or caught in crossfire.
Many of the statements read out in court included denials by family members that their loved-one had been carrying a weapon or had been members of the IRA.
There were also statements about Joseph Corr and John Laverty shot on the Whiterock Road by soldiers of the Parachute Regiment, two days later.
Statements from Eileen Corr, the widow of Joseph, described her exhaustive search for her husband until he was found in the military wing at Musgrave Park Hospital with gunshot wounds to his stomach.
After being moved to the Royal Victoria Hospital in Belfast, he died some days later.
Joseph Corr had been a machinist at Shorts, and Mrs Corr described receiving hate mail postmarked Newtownards on the morning of his funeral.