Transgender: NI schools to receive detailed guidelines
By Robbie Meredith
BBC News NI Education Correspondent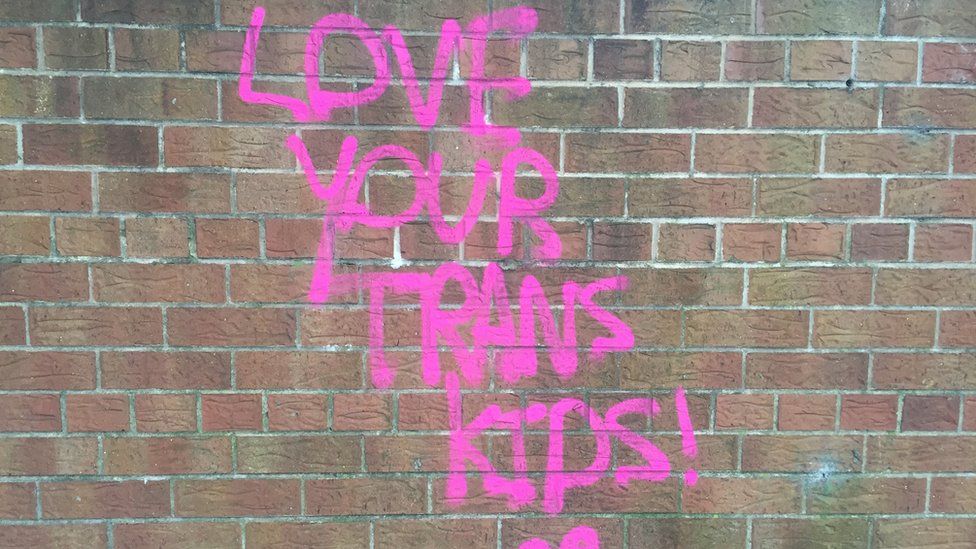 All schools in Northern Ireland are to get detailed guidance in supporting transgender pupils, BBC News NI has learned.
The Education Authority (EA) has appointed a steering group to draw up the guidance.
It will cover a number of practical issues including name changes, uniform policy and the use of toilets.
The EA said that they had received many queries from schools on how best to support transgender pupils.
There are no official figures on the number of schoolchildren who identify as transgender, but a spokesperson for the EA said that pupils who did faced specific challenges at school.
"Research has highlighted a range of barriers to education and high levels of homophobic and transphobic bullying which can have a knock-on effect on young people's mental health, attendance at school and attainment," they said.
"In developing the guidance, the EA aims to increase the professional capacity and confidence of staff in supporting transgender children and young people and assist schools and youth services in promoting an inclusive environment where all children feel welcomed, safe and valued."
Among the organisations represented on the steering group are the Council for Catholic Maintained Schools (CCMS), the NI Council for Integrated Education (NICIE), the Children's Law Centre and Transgender NI.
The Knowing Our Identity service from the Belfast Trust is also on the group as are representatives from the EA's Educational Psychology department.
Members are expected to hold up to five meetings as well as communicate by e-mail and phone.
However, according to the terms of reference for the group - seen by BBC News NI - the final decision on the guidance will rest with the authority.
The EA spokesperson said that the steering group included "the main education stakeholders as well as clinical leads and voluntary sector organisations working in the area."
"The authority has also met with schools and parents of transgender children as well as other interest groups."
They also said that the guidance would help schools to assess the impact of changes in practice on other pupils.
Alexa Moore from Transgender NI welcomed the EA's move.
"Schools are calling out for guidance from the education authority or the department of education on how to support trans pupils," she said.
"It's incredibly important that schools, teachers and staff members have the resources and the knowledge to best support them."
St Paul's High School in Bessbrook, County Armagh has around 1,600 pupils.
Four years ago it admitted its first transgender pupil.
One of the pastoral care teachers at the school, Mary McMahon, said the school had made some small practical changes as a result.
"We've looked at being very flexible with uniform for sport and we also have some toilets which are gender neutral," she said.
"It's part of our inclusion policy and our pastoral care policy as well."
"We want to make all children who come to St Paul's feel included and not singled out.
"Every child here must feel valued and that should be at the core of any practical arrangements."
It is expected that the new EA guidance will be finalised and distributed to schools in mid-2019.
However, around a third said they would welcome more training on how to support transgender pupils.