Brexit: Lawyer claims NI protocol in breach of legislation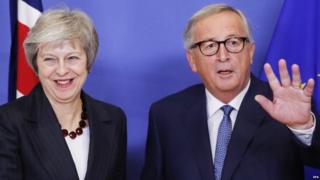 A senior pro-Brexit lawyer has argued that the Northern Ireland protocol of the prime minister's EU withdrawal agreement is in breach of legislation.
Barrister Martin Howe QC said it breaches both the 19th century act which underpins the United Kingdom and the 1998 Good Friday Agreement.
Mr Howe, who is an expert in EU law, has provided advice to the pro-Brexit European Research Group.
The group is chaired by the Conservative MP Jacob Rees Mogg.
The advice argues that the protocol contradicts the 1800 Articles of Union which united Great Britain and Ireland at the time of King George III.
The articles, which Mr Howe points out remain in force, state that "in all treaties with any foreign power, his Majesty's subjects of Ireland shall have the same privileges and be on the same footing as his Majesty's subjects of Great Britain".
They also stipulate that all prohibitions on the export of products of Great Britain to Northern Ireland or vice versa should cease from 1 January 1801.
The legal opinion points out that the Northern Ireland Act 1998 also contains a provision recognising the importance of the UK internal economic market.
Mr Howe acknowledged that as the EU Withdrawal Agreement may eventually become law it could repeal or override the 1800 and 1998 acts.
However, he argued that if this happens it would constitute an alteration to the constitutional status of Northern Ireland, relative to other parts of the UK.
The legal advice states that "making such an alteration to the constitutional status of Northern Ireland without Northern Ireland's consent would breach the UK government's obligations under the Belfast Agreement".
The barrister pointed out that the Irish government is also party to the Good Friday Agreement and maintains that "the present Irish government's support for this constitutional land grab by the EU breaches Ireland's solemn obligations to respect the constitutional status of Northern Ireland".
Whether or not the EU Withdrawal Agreement changes Northern Ireland's status or breaches the Good Friday Agreement's "principle of consent" has been a point of issue between the government and its critics.
Earlier, the Northern Ireland Secretary Karen Bradley rejected assertions that the withdrawal agreement will leave Northern Ireland under the control of the Irish Republic and the EU.
However, the DUP's Jim Shannon claimed Theresa May's proposed deal gives authority to the EU and the Irish Republic over the affairs of Northern Ireland "ad infinitum".