Bombardier to cut 490 more Northern Ireland jobs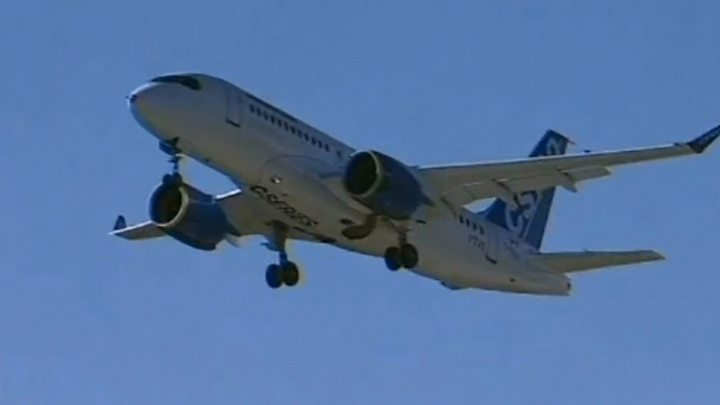 Bombardier is to cut a further 490 jobs from its Northern Ireland operations, the aerospace firm has announced.
The Canadian aircraft manufacturer employs about 4,000 people across several locations in Northern Ireland.
The region's biggest high-tech manufacturer said it had to reduce its workforce after reviewing its "manpower requirements" in Belfast.
The Unite trade union said the job losses were a "bombshell, unjustified in the face of rising profits".
The company employs 69,500 worldwide, and most of its NI-based workforce are based at a wing-making plant in Belfast.
In February, Bombardier, which also manufactures trains, reported a 57% rise in profits.
'Impact on families'
The firm announced this month that it was cutting 5,000 jobs across its global operations.
At the time, it said 3,000 posts would be lost at its Canadian locations.
The company acknowledged that cutting the jobs in Belfast would have an "impact... on our workforce and their families".
"We continue to explore opportunities to help mitigate the number of compulsory redundancies," it added.
"However, we need to continue to cut costs and improve the efficiency of our operations to help ensure our long-term competitiveness."
Timeline: Bombardier job losses
May 2015: Firm announced a cut of at least 220 jobs due to a fall in demand for business jets.
February 2016: It said it would lose about 20% of its NI workforce, with 580 jobs to go in 2016 and 500 in 2017.
April 2016: Job cuts revised - from 580 to 630.
September 2017: Another 95 redundancies announced.
October 2017: Plan to cut another 280 jobs revealed.
The scale of the job losses exceeded the "worst fears" of Unite members, said Jackie Pollock, the union's Ireland secretary.
"Although these jobs will not go until February or March, this announcement is a cruel blow for the Bombardier workforce in the mouth of Christmas."
'High-quality jobs'
Wings for the A220 plane - formerly known as the CSeries - are made at a factory in Belfast, supporting about 1,000 jobs.
In July, Bombardier said it had to make more efficiency savings in Northern Ireland in an attempt to increase sales of the plane by making it cheaper.
The Belfast plant is based in the East Belfast constituency of Ulster Unionist MLA Andy Allen, who said the job losses were a "devastating blow" to workers.
"It is difficult to overestimate the importance of Bombardier to not just east Belfast but the economic wellbeing of Northern Ireland," he added.
"These are high-quality jobs that we simply cannot afford to lose."
The DUP's East Belfast MP Gavin Robinson said he hoped the company would do "everything possible to minimise the number of compulsory redundancies".
There have been several redundancy programmes at Bombardier in Northern Ireland in recent years.