Travel writer recreates hero's epic Arctic journey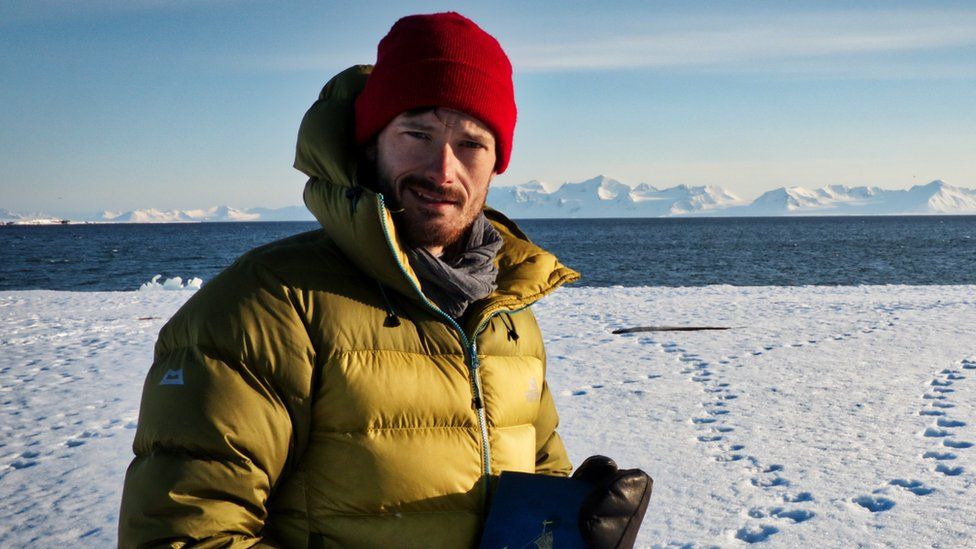 It was the epic Victorian-era Arctic journey that made Northern Ireland adventurer Lord Dufferin an international celebrity and bestselling author.
Now more than a century and a half later, his steps are being retraced by a modern day travel writer, inspired by his fellow countryman's adventure.
Leon McCarron regards the 19th century travel pioneer as one of his great heroes.
In a new BBC Two Northern Ireland film, Leon recreates some of Dufferin's extraordinary journey.
"It was nice to be able to follow in his naivety and awe of just arriving in this frozen archipelago with walruses floating along on icebergs and all sorts of wonderful things," Leon said.
Setting out in June 1856, the 1st Marquess of Dufferin and Ava, Frederick Hamilton-Temple-Blackwood, left his home in Bangor, County Down, on an incredible 6,000-mile journey.
It would take him to the Arctic in a small sailing schooner, the Foam.
Lord Dufferin's account became a best-selling book.
"He had no training for any of this at all," Leon said.
"He was a pretty good sailor but it was a really remarkable thing to do, very few would have been brave enough to do something like that," he added.
In Groundbreakers: Dufferin-Adventures in High Latitudes, Leon, from Articlave in County Londonderry, follows the journey as told by Dufferin.
It takes him from Bangor to the high Arctic via Scotland, Iceland and Norway.
Leon explores Dufferin's background and motivation for taking on such a hazardous journey.
"Dufferin is almost a forgotten hero from our part of the world," Leon said.
"He is a hugely interesting character who did the most amazing things. I hope everyone else will find him as intriguing as I did."
At a young age, Dufferin inherited one of the biggest estates in Ulster after his father's death which brought with it the demands of managing it.
But, Leon said, "he wanted an adventure".
"He set off really to seek something wild and different for himself. He had a quite privileged upbringing and this was, I think, his way of getting out and seeing something different, doing something memorable."
While Dufferin had the 80ft Foam, Leon sets sail on board the 45ft Aleiga, from Longyearbyen in Svalbard to Dufferin's most northerly destination, English Bay - or Engelsbukta.
During his own voyage, Leon brings Dufferin's writings to life, including his encounters with polar bears, the ever-present danger of ice and storms at sea.
To round off his adventure, Leon finally walks in his footsteps at English Bay recreating the scene witnessed by his hero more than 160 years earlier.
Lord Dufferin would make it back to Clandeboye in late September 1856, and his book helped him become a celebrity.
He would go on to serve Queen Victoria as an ambassador all over the world including as Viceroy of India.
His statue stands in the grounds of Belfast City hall.
Groundbreakers: Dufferin-Adventures in High Latitudes will be shown on Sunday 25 November on BBC Two Northern Ireland at 22:00 GMT.