Newspaper review: An end to security delays at Belfast airport?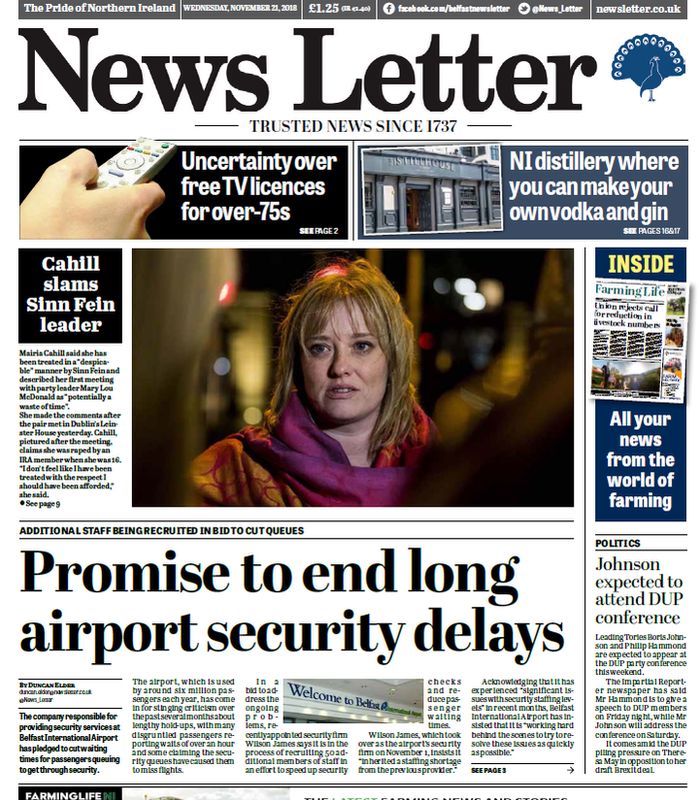 A possible end to long queues at one of our airports and the ongoing political fall-out over the Brexit deal make the front pages of Wednesday's papers.
"Promise to end long airport security delays" is the headline on the front of the News Letter.
Now the firm responsible for security has promised the situation will change.
The News Letter says that Wilson James is to recruit 50 extra staff in an effort to speed up security checks and reduce passenger waiting times.
The company acknowledged that there have been "significant issues with security staffing levels at the airport".
It said as well as recruiting extra staff it was raising pay for its workers, adding: "We are confident that this priority on our employees will deliver a higher calibre of service and provide passengers a more seamless journey through the airport."
Despite this, the airport is still advising passengers to arrive two hours before their flight "and fully prepared for the security search process".
It says "fearful Tories" caved in to a raft of opposition demands in order to avoid defeat, with Labour accusing the Conservatives of "being in office but not in power".
"Fear of DUP sends Tories into a spin" is the headline on the story.
Inside the paper, columnist Alex Kane says that the fact that Mrs May knew the anger that her deal would provoke but went ahead with it anyway, should worry unionists.
It says the DUP's Sammy Wilson has been accused of desperate arguments after accusing Taoiseach (Irish Prime Minister) Leo Varadkar of "Brit-bashing".
Mr Wilson said that a previously good working relationship with Dublin had been undone by Mr Varadkar.
His comments were criticised by both the SDLP and the Alliance Party.
SDLP leader Colum Eastwood said: "Maybe Sammy Wilson should take a step back and realise we can't all be wrong", while Stephen Farry of Alliance said it showed "how desperate people are becoming in their arguments".
One of Northern Ireland's most famous athletes tells the Belfast Telegraph: "I feel alive again".
Dame Mary Peters was spending her first full day at home after undergoing six hours of open heart surgery at Belfast's Royal Victoria Hospital.
The 79-year-old said it would not be easy to follow doctors' orders to row back on her hectic schedule, however she added: "I am not going to rest on my laurels. I have never failed and won't start now."
West Belfast man Michael Hyndman tells The Irish News that he will never go back to Australia after a one-punch attack left him fighting for his life.
Mr Hyndman spent four months in hospital after having his jaw broken in Sydney.
He said he believes the case was not taken seriously enough because he is not an Australian citizen.
Meanwhile, the News Letter reports on an "infestation" of rats in a Lurgan street.
A resident of Princes Street , who is the mother of a five-year-old child, said the rodents were "running around the back alley and in and out of gardens".
She said she felt she had been fobbed off when she contacted Armagh, Banbridge and Craigavon Council.
However, a council spokesperson said it had no responsibility for pest control but "do provide advice to residents on the best action to take should a pest problem arise".
Finally, a County Tyrone woman has spoken of her pride at modelling a dress in honour of Cecil the lion, who was shot in Zimbabwe by an American millionaire dentist.
The dress was designed by London fashion designer Mary Martin, who chose Omagh woman Janice Porter to model it.
Janice, who runs Grovehill Animal Trust, said: "He was an iconic lion. I don't think too many people know the names of lions in reserves in Africa, but he was known."