Foreign Office 'giving up' on IRA victims of Libyan semtex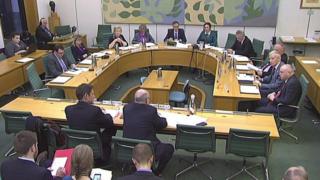 The Foreign Office has been accused of "giving up" on IRA victims killed with Semtex supplied by former Libyan leader Colonel Muammar Gaddafi.
It came after a Foreign Office minister admitted little progress had been made in securing compensation.
Alistair Burt told the Northern Ireland Affairs Committee on Tuesday that £12bn of Libyan assets are currently frozen in the UK.
However, he added that they are beyond the reach of the government.
The late Libyan leader Muammar Gaddafi supplied arms and Semtex to the IRA during the Troubles.
Libya compensated US victims of terrorism, but UK victims were left out of the deal.
DUP MPs Ian Paisley and Gregory Campbell questioned the government's commitment to securing compensation for victims.
Mr Campbell said it was clear the government was content to "tread water" and was reluctant to apply more pressure on the Libyan authorities to release the money.
However, the minister said various other options are being considered and suggested the government was looking beyond the frozen Libyan assets to secure the compensation.