Stormont stalemate: Prison watchdog postpones retirement
By Niall McCracken
BBC News NI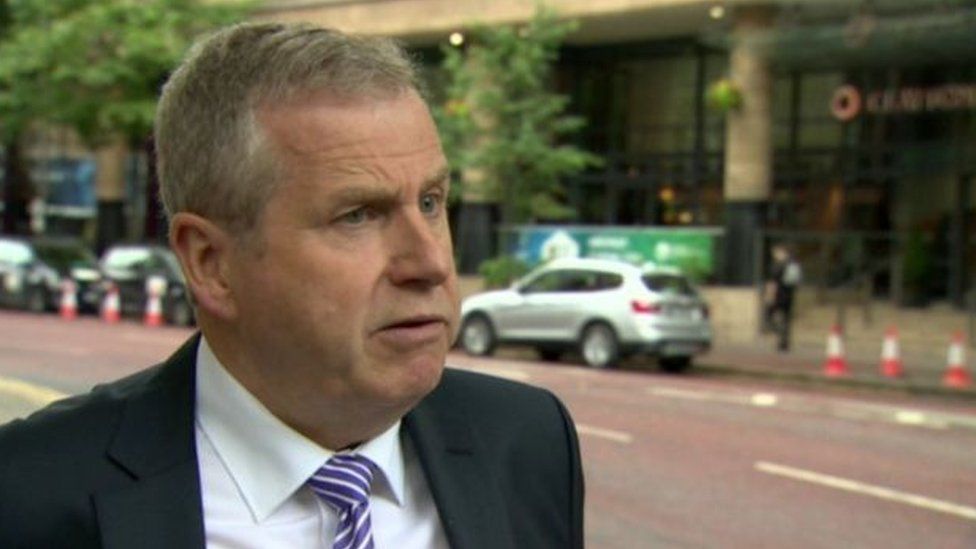 A senior civil servant who was due to retire has been asked to stay in position to continue overseeing two prison watchdog roles.
Brendan McGuigan has been the chief inspector of criminal justice in Northern Ireland since 2012.
He has also been overseeing the work of the prisoner ombudsman's office for more than a year.
Mr McGuigan was due to retire on 29 November.
The previous prisoner ombudsman, Tom McGonigle, retired in August 2017 - and Mr McGuigan has been overseeing the work of that office in the interim.
The chief inspector of criminal justice is responsible for reviewing standards at Northern Ireland's prisons, while the prisoner ombudsman investigates prisoner deaths, incidents of serious harm and complaints.
Both offices have published reports in recent years criticising the Northern Ireland Prison Service for how it has dealt with serious incidents in which inmates have died or committed serious self-harm.
The Department of Justice confirmed it had extended Mr McGuigan's term in the role of chief inspector of criminal justice until 29 November 2019.
It also confirmed he would continue his additional responsibility of oversight of the prisoner ombudsman's office "until a successor is appointed".
Peter May, the permanent secretary for the Department of Justice, said: "Both the Chief Inspector and the Prisoner Ombudsman posts play a vital role in seeking to secure improvement of, and confidence in, the criminal justice system.
"Brendan's wealth of knowledge and expertise will provide important continuity during this period of political uncertainty."
Speaking after the extension of his term of office was announced, Mr McGuigan said: "Criminal Justice Inspection makes a valuable contribution to the development of the justice system.
"I am pleased to be able to continue as the head of the organisation working alongside a team of dedicated and talented staff."
The Chief Inspector post is full-time with a salary of £106,040.
It is understood Mr McGuigan has not received any additional payment for his work overseeing the ombudsman's office to date.