Camouflage moth spotted in Northern Ireland for first time
By Conor Macauley
BBC NI Agriculture & Environment Correspondent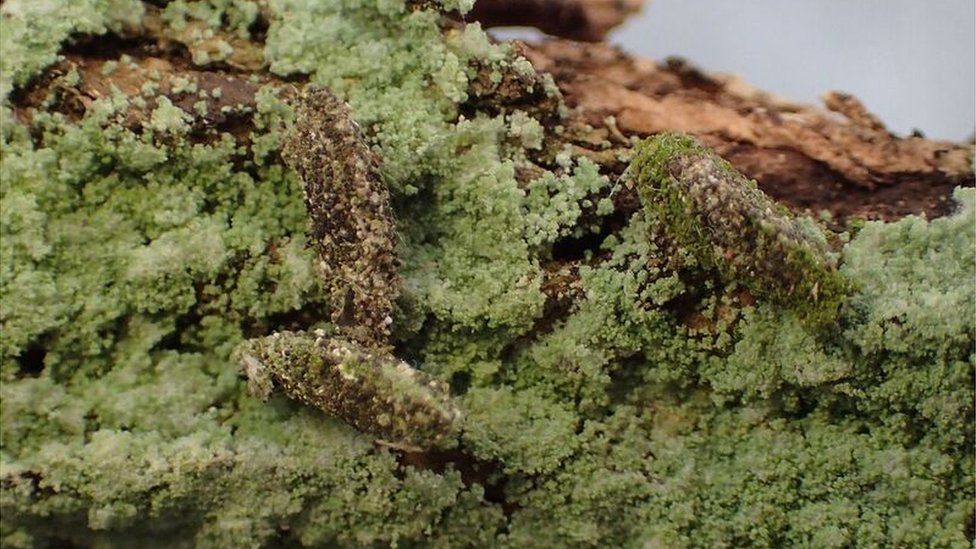 A tiny camouflaged caterpillar that is a master of disguise has been spotted for the first time here.
It is part of the life cycle of the 5mm white-speckled smoke moth and was picked out at the Giant's Causeway.
It had woven itself a protective case of silk and attached materials from its surroundings making it virtually impossible to spot.
But Dr Cliff Henry, area ranger for the National Trust at the causeway, saw it on a wall outside his office.
"I only spotted it when a speck of green on a clean part of the wall caught my eye," he said.
"When I took a closer look, I realised the speck was moving.
"A tiny caterpillar was hauling its little camouflaged house up the wall."
It is the first time the species has been spotted on the island of Ireland.
It is believed it may have been blown here from Britain by strong easterly winds.
Chairman of Butterfly Conservation Northern Ireland, Adam Mantell, said: "It's fantastic to have a new species of moth confirmed in Ireland, something which doesn't happen every day.
"It shows that we still have much to learn about our native species and demonstrates the value of recording what we see around us."
Its life cycle from egg to flying moth is usually a year and the caterpillar pupates for a month, usually in May, before emerging as a minute moth.
Experts say it could have been right under their noses for years and was only spotted through sheer luck.