Gillen review: Report recommends public be banned from rape trials
By Vincent Kearney
BBC News NI Home Affairs Correspondent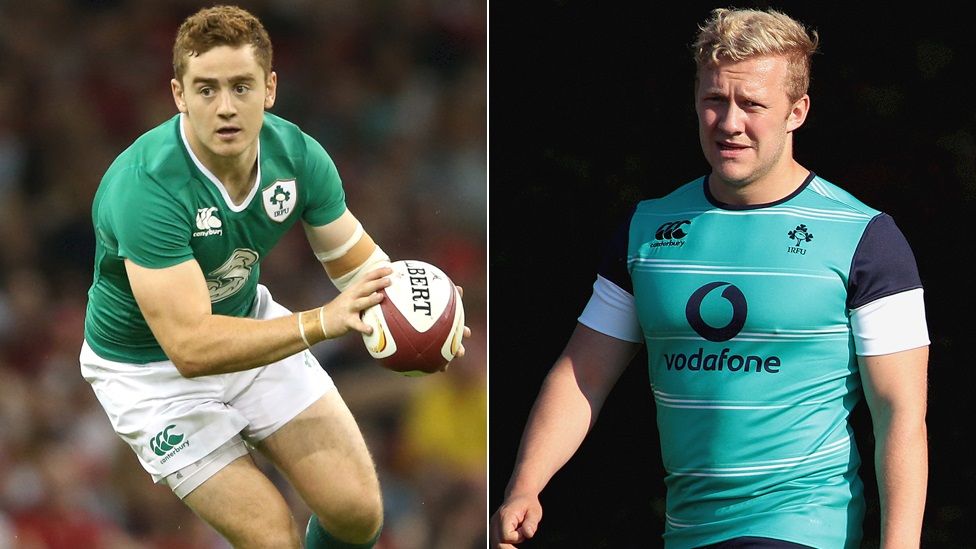 Members of the public could be banned from trials involving rape and other serious sexual offences in NI.
The recommendation is one of more than 200 in a preliminary report by a retired judge appointed to review the handling of such cases.
Others include measures to reduce "the humiliating and distressing" nature of cross-examination of the accuser in rape trials.
Sir John Gillen also wants legislation to combat the impact of social media.
He says the medium is destroying reputations and damaging the rule of law.
But he has rejected calls for the accused to be anonymous unless they are convicted.
The report is being put to public consultation with 15 January being the closing date for submissions.
Of the more than 200 proposals, 35 would require new legislation.
'Worst violations of human dignity'
"Sexual crime is one of the worst violations of human dignity," he said.
"My aim is to recommend improvements in the ways in which our justice system deals with serious sexual crime while ensuring delivery of a timely, fair and just hearing for complainants and defendants."
Sir John says his review team had contact with more than 200 organisations and individuals to hear first-hand accounts of the criminal justice process.
They examined systems and processes in 15 countries across Europe, the United States, South Africa, Australia and New Zealand.
The Gillen report sets out proposed remedies to deal with all concerns about gross under-reporting of sexual offences, high drop out rates by complainants and "an unacceptably daunting trial process".
One of a number of proposed measures aimed at reducing the distress of complainants is restricted public access.
Intimate details of worst experience
Sabrina Barton from County Tyrone is one of the people who gave her views to Judge Gillen's review.
She was raped after a man broke into her house while she was sleeping.
He has been jailed for life.
She has waived her right to anonymity and said she welcomed the review findings, particularly around the public gallery.
"The public gallery being open and full of people makes the situation much more difficult," she said.
"You're sharing intimate details of the worst experience you've ever had, and it's difficult enough to share with family and friends never mind a room full of strangers."
The report acknowledges that the right of the public to attend trials is a key principle of open justice.
But Sir John favours greatly reducing access to the public gallery during trials for serious sexual offences.
He recommends that access should be confined to close family members of the complainant and the defendant, and members of the media.
"Confidence building measures for complainants who fear the cruel glare of public exposure (particularly in high-profile trials in front of packed public galleries) are now vital," he said.
Sir John said the issue that caused controversy and division of opinion during the review was whether a person accused of rape should have the right to be anonymous - in the same way as their accuser.
People cleared of serious sexual offences often say their lives and reputations are destroyed even though they were not guilty.
"I accept there are severe consequences, both physical and mental, for accused persons. I met a number of people acquitted of serious sexual offences and heard for myself the harrowing impact it had on them and their family members," he said.
"Some had to leave Northern Ireland because the 'mark of Cain' was upon them."
He has recommended the introduction of anonymity for suspects before they are charged with any offence, but once charged he does not agree that the identity of the accused should be withheld.
Guilty until proven innocent?
He was acquitted on all charges.
"They say you're innocent until proven guilty," he said.
"But from the moment the police questioned me they assumed I was guilty. It took nearly 18 months and a court case to prove them wrong."
"Firstly, there is clear evidence that naming the defendant serves to bring forward other complainants," he explains.
"In cases where it's often the word of one person against another, if four or five women come forward and make allegations against the same person, justice is more likely to be done.
"Secondly, it is extremely difficult to justify the identity of an accused being anonymised in serious sexual offences and not in other heinous offences such as murder, crimes of unspeakable cruelty to children and other offences of non-sexual extreme violence etc."
He recommends the introduction of measures to combat rape myths and stereotypes that may influence the judgement of a jury.
These include myths that: rape only occurs between strangers; victims provoke rape by the way they dress or act; victims who drink alcohol or use drugs are asking to be raped; if complainant did not scream, fight or get injured, it was not rape; and that victims cry rape when they regret having sex or want revenge.
"Frustratingly, many people, men and women, still harbour unspoken views about appropriate behaviour for individuals according to their gender.
"These myths need to change, they need to be removed."
Sir John wants to see more robust action from judges in their directions to jury members, and interventions during cross-examination by defence teams if prejudicial questions are being asked.
There would also be educational materials for jurors, and a public and school campaigns "to debunk these myths".
Green Party MLA Clare Bailey, who co-chairs the assembly all party group on domestic and sexual violence, agreed with Sir John's recommendations for a cultural change on sexual violence.
"The cultural change may take generations to achieve, but the starting point must be to empower our young people through a mandatory relationship and sexuality education programme," she said.
When it comes to the way trials are conducted, Sir John said "a growing number of credible voices" are questioning whether juries should be abolished in cases involving allegations of rape and other serious sexual offences.
He is not persuaded and recommends that the fate of defendants will continue to be decided by a 12-person jury.
But - in a major change - the accused would have right to apply for a judge-alone trial without a jury.
This would only be granted in "rare circumstances", for example, where a high profile case had received such widespread publicity it would be difficult for a defendant to receive a fair trial.
The judge also wants new legislation to tackle what he calls the "menace" of social media.
He says it is having a range of adverse impacts, including rendering the granting of anonymity to complainants null and void and destroying the reputations of accusers and the accused.
"Social media can render the granting of anonymity to a complainant a complete waste of time and that will put people off coming forward."
Sir John makes 29 recommendations in this area, 11 of which would require new legislation.
There would be specific laws aimed at members of juries, and others targeting members of the general public.
Other proposals include the pre-recording of the cross-examination of complainants away from the court room.
This would initially be afforded to children and vulnerable people, but would eventually extend to all complainants in cases of serious sexual offences.
There would also be measures to enforce current law prohibiting questioning of complainants about their previous sexual history, except in rare circumstances.
Sir John says this is needed to reduce "the humiliating and distressing nature of cross examination in rape trials as well as protecting a complainant's right to privacy".
He hopes to publish his final report before the end of 2019.