Micheál Martin: Fianna Fáil and SDLP deal 'not finalised'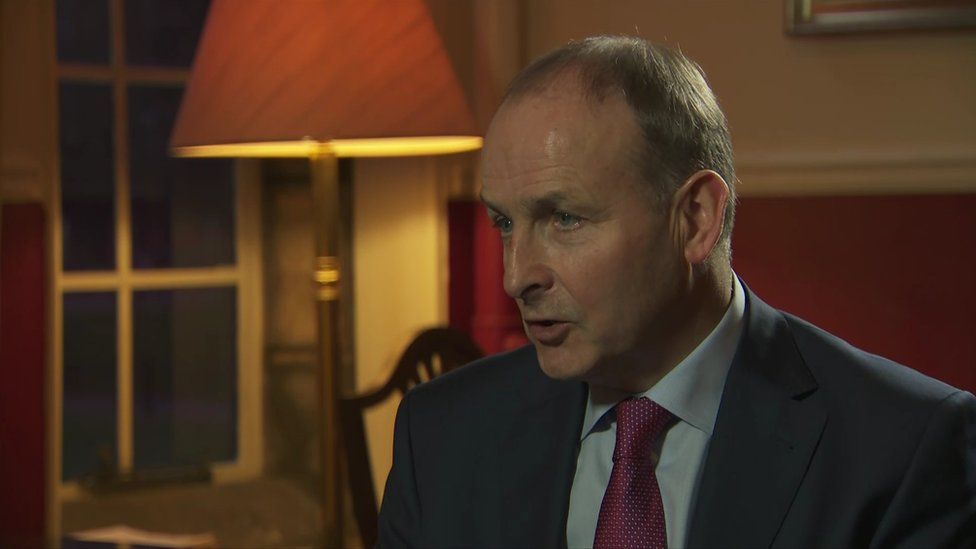 The leader of Fianna Fáil said he cannot reveal the sort of relationship he wants his party to have with the SDLP.
Micheál Martin said talks are ongoing between the two parties, but would not be drawn on whether they would merge, have an electoral pact or there would be a takeover.
In October it was announced that Fianna Fáil would stand a candidate in Northern Ireland for the first time next May.
But party headquarters said the party had not yet taken a decision on standing north of the border.
Speaking on BBC Northern Ireland's Sunday Politics, Mr Martin said: "We are engaged in discussions, as you know we have a long tradition of supporting the SDLP and supporting their candidates in certain elections.
"But I think Brexit has certainly changed the dynamic in northern politics. We believe there is a new agenda needed for Northern Ireland politics.
"We are engaged in discussions with the SDLP in terms of the shape and nature of that new agenda but we are in a process at the moment."
He added: "I am not going to breach that particular process, but we have exchanged documents and we are looking at how we can deepen that relationship between the two parties.
"I know where we are heading but I have due regard for my partners in this discussion, the SDLP."
At a meeting in Omagh, County Tyrone, it was announced that councillor Sorcha McAnespy would be standing as a candidate in Northern Ireland's local council elections.
But Fianna Fáil headquarters issued a statement reiterating that the party had made "no decision" on contesting the election.
Fianna Fáil said that the party had made no decisions around contesting elections because it was continuing talks with the SDLP.
Some SDLP members have said they oppose the merger, including South Belfast MLA Claire Hanna who previously told the BBC she would not join Fianna Fail.
Mr Martin said he understood those concerns.
"I am very conscious of that, and equally we have many people from the SDLP coming to us, wishing for us to engage with them as well.
"Of course Fianna Fail has a strong social democratic tradition as well of its own.
"These are issues that have to be teased out and obviously the SDLP members themselves will have to have a discussion and that is a matter for the SDLP to have that discussion as well."
Mr Martin, who has led Fianna Fail since 2011 and is a former foreign minister, suggested any candidates elected in a deal between the parties would take their seats.
"Our view is that people who don't want to take their seats - so Sinn Fein at the moment don't want to take their seats - stand aside and let those who do, run.
"There is a very simple way around it. If you fight the election you should take the seat."