Johnston Press: News Letter owner bought over by new company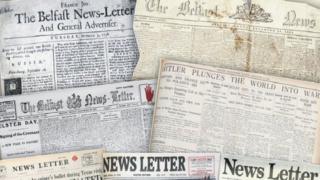 The media group which owns the oldest English language daily newspaper in the world has been bought out hours after filing for administration.
A newly formed company, JPIMedia, has bought Johnston Press, which publishes the News Letter and several weekly papers in Northern Ireland.
JPIMedia has said the move ensures staff will keep their jobs.
The newspaper group put itself up for sale last month, but said none of the offers it received were strong enough.
It filed for administration on Saturday morning as part of a rescue plan aimed at ensuring its survival.
David King, the new chief executive of JPIMedia, said the sale ensures "that operations can continue as normal, with employees' rights maintained, suppliers paid, and newspapers printed".
Prior to the sale, The News Letter's deputy editor Ben Lowry wrote on Twitter that the paper was in good health and profitable, adding that it will be the world's oldest daily "for while yet".
However, Ciarán Ó Maoláin, secretary of the Belfast branch of the National Union Of Journalists (NUJ), said the news that the company was entering administration was worrying.
"We're seriously concerned about those of our colleagues who work on the News Letter which is the oldest English language newspaper, continuously published newspaper in the world and those in the Derry Journal and the many local titles that Johnston Press has in Northern Ireland," he said.
"Many of our members work there and our thoughts are with them at this time."
The group has titles covering more than 200 locations across the UK.
They include the 'i', The Scotsman and the Yorkshire Post.
Johnston Press has £220m of borrowing due for repayment in June next year.
Johnston Press publications in Northern Ireland
News Letter
Ballymena and Antrim Times
Ballymoney and Moyle Times
Coleraine Times
Belfast News
Londonderry Sentinel
Derry Journal
Etc Magazine Derry & Donegal
Mid Ulster Mail
Tyrone Times
Farming Life
Lurgan Mail
Portadown Times
Lisburn Echo
Banbridge Leader
Ulster Star
Etc Magazine Ulster & Antrim
Carrick Times
Larne Times
Newtownabbey Times
The News Letter celebrated its 280th birthday last year.
In August 1776, it had its greatest ever exclusive - breaking the news that America had declared its independence.
A decline in traditional and digital advertising revenues has seen the value of Johnston Press's titles fall.
Johnston Press saw revenue fall by 10% in the first half of 2018, although it reported a pre-tax profit of £6.2m.