NI Paper Review: Derry Girls return and Mrs May's battle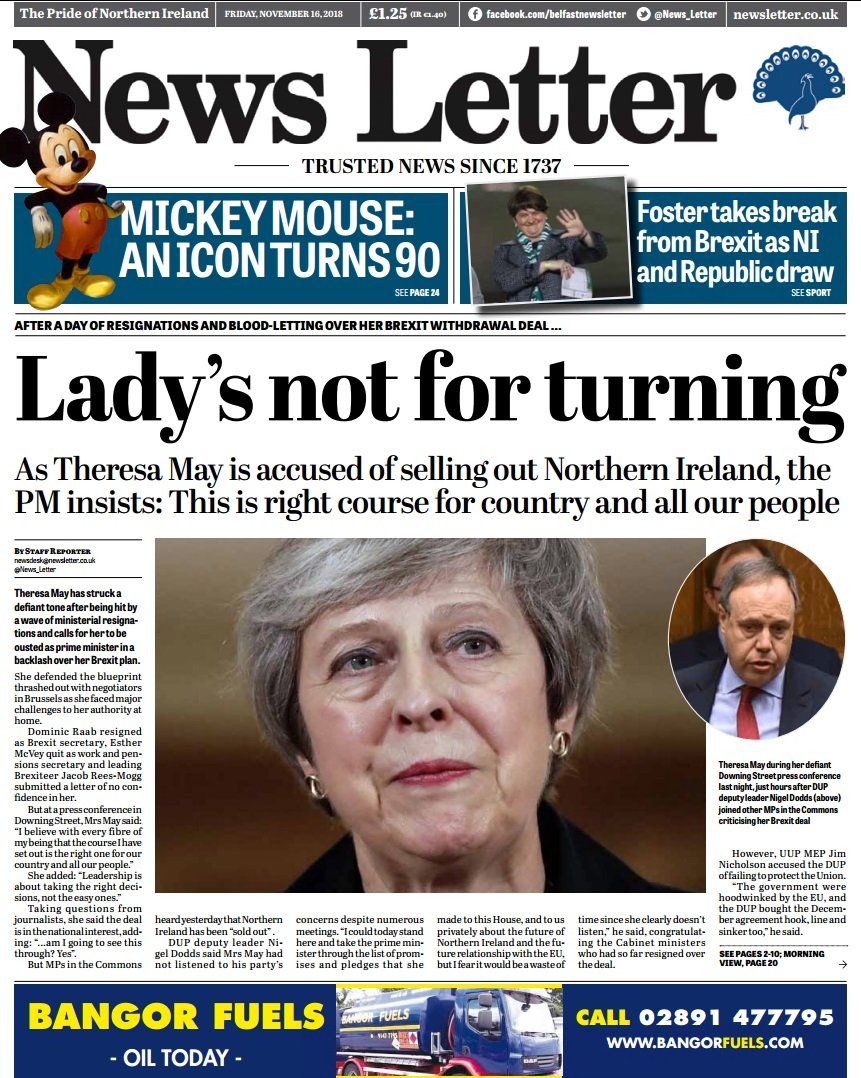 The events at Westminster make the lead for nearly all of Friday's papers.
The Belfast Telegraph splashes with a picture of DUP leader Arlene Foster and Tánaiste (deputy head of government) Simon Coveney smiling and shaking hands.
The pair attended the Northern Ireland and Republic of Ireland friendly football match in the Aviva stadium in Dublin on Thursday.
There is plenty of analysis from all sides of the Brexit debate in the papers too.
Writing in the Belfast Telegraph, Ed Curran warns that "how the DUP plays its cards in the coming days may determine not only the future of Mrs May and her Brexit deal, but also who remains a friend of unionism at Westminster and in Europe".
Ben Lowry of the News Letter says that the deal is "the worst imposition on unionists since 1985's Anglo Irish Agreement".
In the pages of the Irish News, Allison Morris predicts that this is end of the line for Mrs May as she tries to make "an impossible sell".
The Daily Mirror is the only paper that leads with a non-Brexit story.
It reports on the case of a DUP councillor accused of sexually assaulting a nursing colleague.
Ian Stevenson, 49, denies squeezing the woman's breast at a care home in County Antrim in 2017.
The paper also has a story about fly-tipping beside flats in the Lenadoon area of west Belfast.
One resident is particularly critical of the dumping, since, they say, if the fly-tippers drove two miles up the road they would find a council dump.
"It's just crazy," they said.
No Stone Unturned won the 'current affairs' category at the Royal Television Society Northern Ireland awards on Thursday.
The confidential documents related to a police investigation into the murder of six men in Loughinisland.
The cast of the hit show Derry Girls excited the "couple of hundred people" gathered on the streets of Londonderry.
Yesterday morning the five main cast members - Saoirse-Monica Jackson, Jamie-Lee O'Donnell, Nicola Coughlan, Dylan Llewellyn and Louisa Harland - all dressed in their now trademark school uniforms shot a scene with a woman in an old-style Opel Astra car, the Belfast Telegraph reports.