Teachers at Belfast school on strike over 'working culture'
By Robbie Meredith
BBC News NI Education Correspondent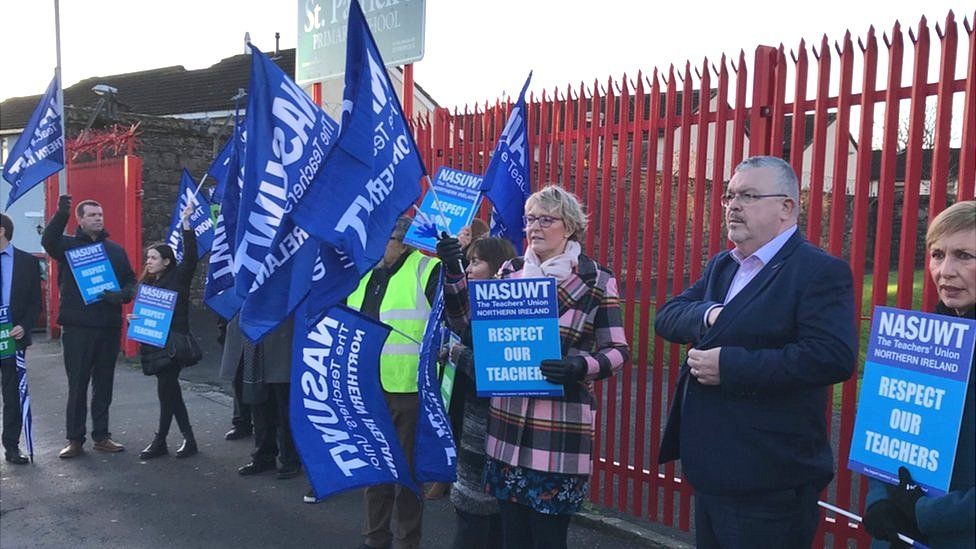 Teachers at a north Belfast primary school are on strike over "the culture" in which they are expected to work.
Members of the NASUWT union at St Patrick's PS, in Pim Street, have begun the first of six separate days of industrial action.
The principal told BBC News NI the majority of teaching staff remained at work in the school on Tuesday.
The chairman of the board of governors called on the union to suspend the strike and re-enter talks.
As many as nine teachers - a third of the teaching staff - were expected to join the strike action.
Principal Margaret Neeson said: "We remain focused on ensuring the education and wellbeing of our pupils."
'Proportionate or warranted'
In a letter to parents, chairman of the school's board of governors Tony Fahy said he was "deeply disappointed".
The Council for Catholic Maintained Schools (CCMS), the management body for the school, said the strike would affect pupils.
"CCMS fully appreciates the right of teachers to take industrial action," a spokesperson said.
"However, we do not believe that in this instance such action is either proportionate or warranted."
But NASUWT general secretary Chris Keates said the teachers had been left with "no choice".
"They feel they cannot continue to accept a working environment where the management practices are undermining their well being and ability to do their best for their pupils," she said.
"The NASUWT has attempted at every stage to work with the employer to resolve the issues, however members have been left with no option other than to take strike action."
Her claims were echoed by the NASUWT national executive member for Northern Ireland, Susan Parlour.
"Teachers, like all workers, have a right to be treated with dignity and fairness at work, but currently members at St Patrick's do not feel respected and valued, and their health and welfare appear to count for little," she said.
There are about 25 teachers in the school, and in his letter to parents Mr Fahy said that it would remain open.
"It is our firm belief that genuine issues of concern, including those held by the management of the school, can and should be dealt with through open and honest dialogue," he said.
"In the first instance through use of the agreed procedures that are already in place for school leaders and teachers but which have not yet been used."
Further strike action by NASUWT members at the school is planned for 20, 22, 27, 28 and 29 November.