Augher crash bus driver says seat belts saved those on board
By Julian Fowler
BBC News NI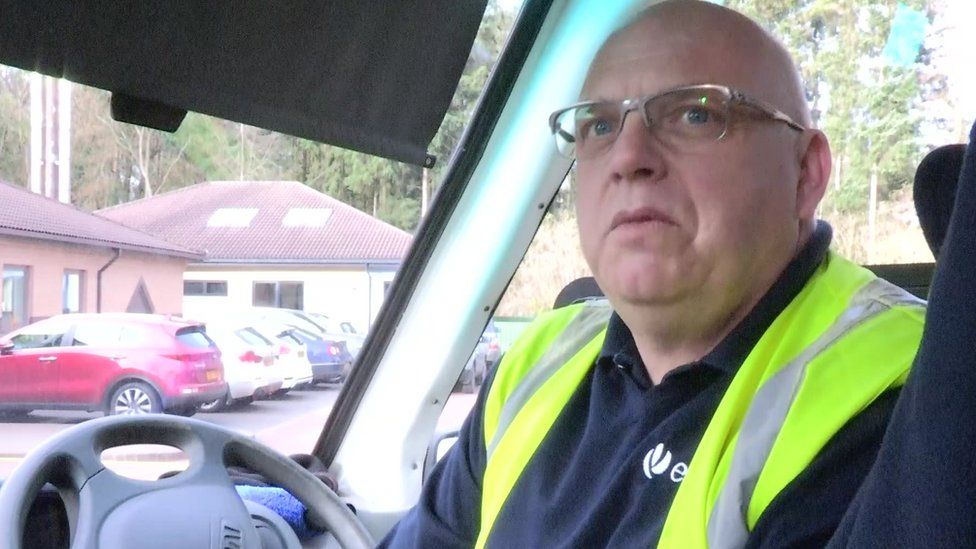 A driver whose school bus overturned after a crash in County Tyrone last month has said seat belts saved all those on board from serious injury.
The bus came to rest on its roof next to a house, after colliding with a car at a crossroads near Augher.
It was bringing pupils home from Sperrinview Special School in Dungannon.
They helped rescue four children after the bus crashed.
However, Mr Cullen told BBC News NI he was no hero and was just doing what he was trained to do.
"The accident happened that quick it was over in a flash," he said.
"The first thing you think about is: 'Are the children OK?'
"I checked on them and Sandra (Falloon) and myself, we got the children out of the seatbelts and with the help of some people who came along, we opened the back door so we handed them out to them.
"It was the seatbelts that saved them.
"They were well secured, which they are all the time."
Mr Cullen said that if any of the children had not been wearing a seatbelt "they would have been thrown about like a rag doll".
He said he had only noticed the damage that was caused to the vehicle a week after the crash.
"I didn't notice the bus for about a week, when I was round at the yard one day, and then it hit me how bad it was," he added.
"We were lucky, very, very, lucky.
"Only for the seatbelts, it could have been a lot worse."
Sperrinview Special School principal Paula Jordan described the crash as "frightening and absolutely terrifying".
She said the school was relieved the children and staff had only sustained minor injuries "and that everyone is OK now".
"That's what saved the children's lives, they had their seatbelts on," she said.
"And without them there is no doubt in my mind that some of those children would have been either very seriously injured or would have been killed.
"The driver and the escort were superb and, as with all of our staff, their first priority was the children.
"Regardless of the fact that they had both been injured themselves, they put the children first and they did what was necessary.
"They were absolutely wonderful."