Belfast woman tells of "inferno" engulfing California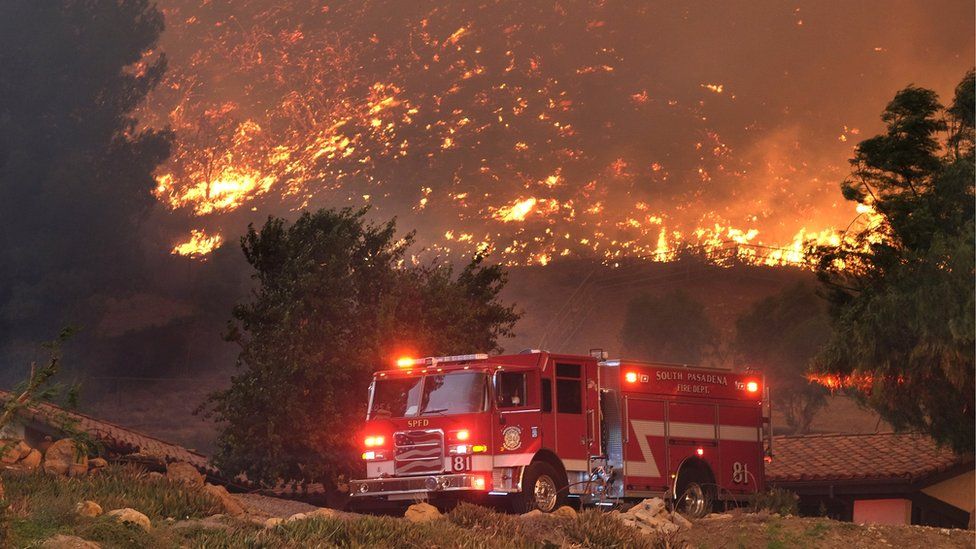 A Belfast woman has spoken of her horror at being caught up in wildfires which are raging throughout California.
Geraldine Gilliland told BBC News NI that she has "never seen anything like it" and described the scene as an "inferno".
A property belonging to Ms Gilliland in the Agoura Hills area of Los Angeles has been destroyed in the fire.
The blazes, at three major locations in the state, are amongst the most destructive wildfires ever to strike north and south California.
Businesswoman Ms Gilliland, who is originally from Andersonstown, and her 23 dogs were sheltering in a restaurant in Santa Monica when she spoke to the BBC.
She said she had travelled "15 miles in five hours" amidst the chaos striking the area.
"We drove past houses on fire, hillsides on fire, I don't know if my house in Malibu has burnt down," said Ms Gilliland.
"I was afraid of running out of petrol, the dogs were very agitated and the sirens were going crazy
"My nose started bleeding because of all the smoke and the ash that was dropping."
A previous home belonging to the Belfast woman, who has lived in the US for decades, burnt down in a fire in 2007.
"I have never seen anything like this. It is like an inferno. I ask you all to pray that my house has not burnt down," she said.