Climate change: NI pension fund 'not doing enough'
By Conor Macauley
BBC NI Agriculture & Environment Correspondent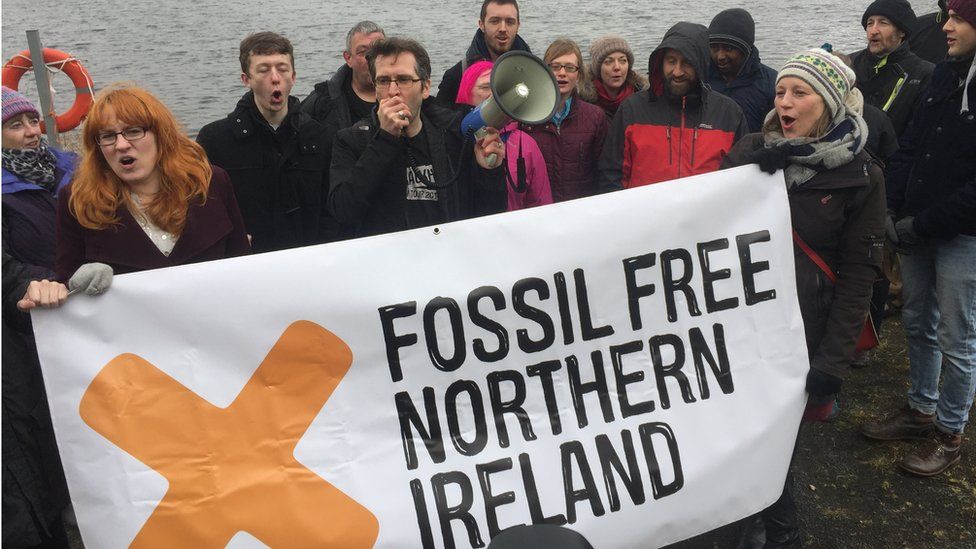 Northern Ireland's biggest pension fund is not doing enough to protect its investments from the risk of climate change, environmentalists have claimed.
The Northern Ireland Local Government Pension Scheme (NILGOSC) has 118,000 members employed by public bodies.
They include education and library boards, universities, councils and Translink.
A report by Friends of the Earth and Platform London assessed 17 local government pension funds in the UK.
It found the one in Northern Ireland had a high exposure to fossil fuel investments compared to the UK average.
The fund invests in companies like BP and gas firm Centrica which has interests in shale gas exploration, or fracking.
Last year environmentalists called on NILGOSC to take its money out of oil and gas.
The committee which runs the fund said it did not intend to divest from fossil fuels.
It argued that to do so would mean losing its influence through its shareholder voting rights.
It said it also had a duty to ensure that its members got a good return on investment.
The report said NILGOSC acknowledged that climate change posed a risk to its investments but had no effective strategy to address it.
A spokesman for NILGOSC said it believed that "divestment would have no effect on CO2 levels and that a reduction in demand would be more effective".
He said it was currently invested in clean energy projects like electric cars, wind, solar and wave power and energy conservation.
"NILGOSC shares concerns over climate change and carbon issues and works at both a fund and an industry level to further climate action."
'Neither ethical nor financial sense'
Deirdre Duff, from Friends of the Earth, said less than 20% of fossil fuel reserves could be used if countries were to meet the goals of the Paris Climate Change Agreement.
"It makes neither ethical nor financial sense to invest in the fossil fuel industry when such a proportion of its assets are unburnable," she said.
She added that fossil fuel investments were "morally indefensible" and posed a risk to funds by sinking money into "soon to be devalued" gas oil and coal companies.
Sakina Sheikh, from Platform London, said those who managed workers' pensions had a responsibility to ensure they were not locked into "stranded assets".
Last year, campaigners claimed that the Northern Ireland Pension Fund had £155m tied up in fossil fuel companies.
Fund managers said its total pension pot was £7.7bn.