WW1 centenary: Blood-stained prayer book tells story of sacrifice
By Julian Fowler
BBC News NI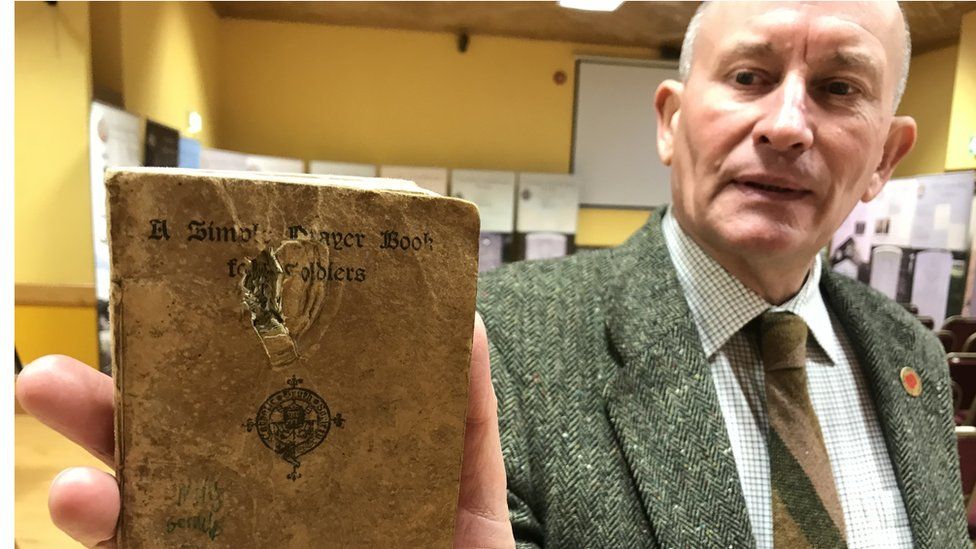 A blood-stained prayer book, with a bullet hole through its pages, is one of the poignant items in an exhibition remembering the sacrifice of men from north Fermanagh and Pettigo who died in World War One.
In 2014, David Keys wanted to find out more about the 50 to 60 men from his local area who were killed.
He soon discovered that many more men fought and died in the Great War whose names had been forgotten.
"Over the course of the last four years I have been researching the names that appear on memorials in most of the local churches," he told BBC News NI.
"Unfortunately, I found that there were a number of people who are not recorded in their local parish churches and particularly those from the nationalist community who are not recorded locally.
"Many of those men have now been forgotten and it's only recently that some of the families have come forward and given us their names and had a desire that their names would be recorded and preserved."
Mr Keys has discovered that the true scale of loss from the remote, rural area was 152 young men.
As part of an exhibition at Ardess Parish Centre near Kesh, a model Commonwealth War Grave has been created, with each man represented by a model wrapped in a shroud.
The artwork was inspired by the Shrouds of the Somme exhibition by artist Rob Heard.
Model maker Bruce Switzer said the model was a representation of the numbers that were killed.
"It just brings it home to you the sheer volume of death that was caused in the First World War," he said.
The research has not just recorded names but uncovered poignant stories and artefacts such as the Catholic prayer book that belonged to Private James Monaghan from Brookhill near Pettigo.
David Keys said the soldier would have been carrying it in his breast pocket when he was shot.
On the back of the book there is a small splatter of blood.
"The prayer book was obviously recovered by his colleagues on the front line and was returned to the family and that family are very proud of their ancestor," he said.
Another story told in the exhibition is of the two Graham brothers who were farm labourers from Pettigo.
They went off to the hiring fair to find work as farm labourers where they were approached by a recruiting sergeant.
They signed up and were immediately sent by train to a training camp and from there to the battlefields in France,
Their family would never see them again.
One of the brothers was killed in action and the other was killed by friendly fire coming back into his own trench.
John McClaughry who helped to organise the exhibition said: "We're starting to build a picture and suddenly what was just a list of names, these men are now becoming human beings.
"If anybody young died in the community it usually brings grief, but this is 152 young people dying in the community."
Mr Keys said these were ordinary men from a farming community.
"Too many people today get the impression that a soldier is somebody unique," he added.
"A soldier is a man who has a particular trade and he's a human being and these men walked the streets and farmed the land in this area and they were an enormous loss to the community and, in particular, to their families.
"I think it is vitally important that our community today is made aware of the enormous sacrifice and the enormity of the sheer numbers of men from right across the island or Ireland who lost their lives in World War One.
"It's 100 years since that conflict ended and the danger is that future generations and the young generation of today will forget all about it and will not be aware of the numbers of men from this area who perished in the Great War."
The exhibition at Ardess Parish Centre near Kesh opens on Friday night.