Ulster Bank manager's pride after £20,000 fraud prevented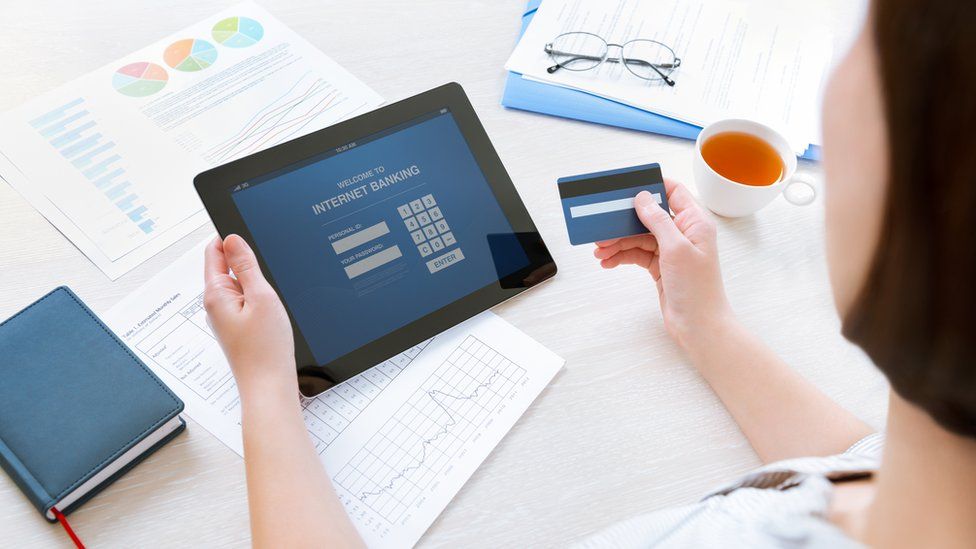 The manager of a County Armagh bank has said she could not be prouder of two staff members who stopped a customer from being scammed out of £20,000.
Staff at the Lurgan Ulster Bank noticed a woman trying to transfer the money from her own account earlier this week.
She did so after being called by a fraudster claiming to be from BT.
"The customer had originally gone to a cashier who would be one of the newer members of our team," branch manager Tracy Sadler said.
"She just wasn't 100% - she didn't feel that the questions she was asking that the customer was able to answer them as confidently as she would if it was a genuine payment.
"She called in one of the more senior members of staff and it was him who actually launched our banking protocol and made contact with the PSNI to ask them to come to the branch.
"So I couldn't be any prouder of both of them, it was really great. They put their training into practice and prevented that customer from losing a substantial sum of money."
Ms Sadler said fortunately the customer accepted that she had been the victim of a scam.
"In this case she believed us, sometimes customers do not believe that these sorts of things can happen to them and they are a bit reluctant when we try to make them aware that it is a scam."
She said banks are facing a constant battle against fraudsters.
"Unfortunately we are seeing an increase in the number of scams that are attempted and this one in particular was quite a sophisticated scam," Ms Sadler said.
"The scammer spent quite a considerable length of time on the phone with the customer and had come up with quite an elaborate story.
"She [the customer] was obviously quite upset and very relieved that we were able to point out to her that it wasn't as genuine as what they were trying to make it out to be."
The police said the would-be victim had been called by the fraudster telling her of internet connection issues in her area.
After agreeing that she wanted her WiFi to be "fixed", the woman received another call claiming someone was trying to funnel money through her account.
The scammer then coached her to download a legitimate app, normally used by businesses, but used by the cold callers to access her device, her email and online bank accounts.
She was then advised that money had to be transferred to a different account to assist the NCA (National Crime Agency), even being told she would get £500 for doing so.
After moving money from her savings account to her current account to trick her into thinking this money was there, the scammers convinced her to walk to the Ulster Bank in Lurgan to check her account.
This was an attempt to show her the "new money' was there - all the while she was still speaking to the scammers on the phone.
The fraudsters convinced their would-be victim to tell banking staff the money was for "home improvements".
"We are constantly working with Friends Against Scams to help keep our own staff up to speed on the latest attempts that fraudsters use," Ms Sadler said.
"Because they are so smart and some of the scams are so sophisticated, we need to be on the ball and make sure that we are aware so that we know what to spot and what to look out for and educate other customers.
"So the training is an ongoing thing that we do every year."