NI Paper Review: Homeless football and Stormont 'slush fund'
By Hannah Gay
BBC News NI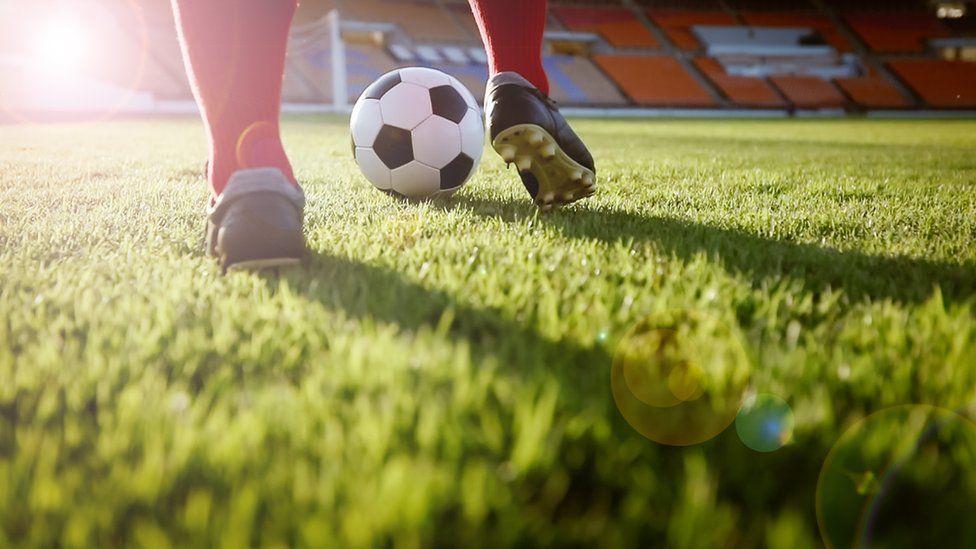 The Homeless World Cup football tournament, a Stormont scheme under fire and teenage pregnancies are all across Thursday's front pages.
The Belfast Telegraph leads with Northern Ireland's Homeless World Cup players, who are to compete in an international tournament next week in Mexico.
The 18 men and women were given a send-off in Windsor Park from Northern Ireland legend Gerry Armstrong, who is a street soccer ambassador.
This years Homeless World Cup will see 500 players from 47 countries battle it out next week in Zocalo square, Mexico.
Ruth Boyle, who is a defender on the team, got into difficulty when a former landlord chose to sell the house she was renting.
The 36-year-old hopes to find full-time accommodation when she gets back from Mexico.
She told the newspaper: "I love football, it's always been my go to. I want to bring football to people".
The multi-million pound Social Investment Fund was set up in 2011 by Peter Robinson and Martin McGuinness to help disadvantaged areas.
However a lack of a clear paper trail has not shown how or where huge sums of money from the fund were given out.
A report published from the Northern Ireland Auditor General Keiran Donnelly expresses "serious concerns" over the lack of documentation showing how projects were selected.
The report also shows how £12m was awarded to 18 projects with links to steering groups, who were tasked with deciding where the cash should go.
Appointments for the steering group were made by then leaders of the DUP and Sinn Fein, Mr Robinson and Mr McGuinness.
Former Ulster Unionist leader Mike Nesbitt has compared the fund to the botched RHI scheme.
Meanwhile, Alliance MLA Chris Lyttle has called for an independent inquiry into the Social Investment Fund.
Inside the Belfast Telegraph, the number of teenagers giving birth in Northern Ireland hit a record low in 2017.
New figures released from NISRA, show that 692 of the 23,075 births in Northern Ireland last year were to mothers under the age of 20.
The number is less than half the number recorded a decade previously, (1,405) and 65% fewer than 30 years ago, (2,008).
The report shows that the average age of first-time mothers has continued to increase, up from 25 year in 1987 to 28.7 years in 2017.
Dr Dirk Schubotz, who is chairman of Common Youth, a sexual health service for young people, said the statistics are not surprising.
"The availability of contraception has improved and there has been progress in relationship and sexual education and more young people plan when they want to have children and wait until they have found employment".
In the Irish News, heavy rainfall caused travel disruption and flooding across Northern Ireland.
The Met Office has said that weather conditions are likely to deteriorate once again into Thursday.
Counties Antrim and Down were the worst affected by flooding, with many motorists in Belfast and Lisburn left stranded as their cars were stuck in deep water.
Public transport was also hindered by flooding as rail and bus services suffered delays.
In south Belfast, some homes and gardens were submerged in water.
Sinn Fein councillor Geraldine McAteer said: "Water was at a height of one to two feet in some places, gardens and drive ways have been flooded as well as garages".
And finally, The News Letter includes the tale of a flight from George Best City Airport to Glasgow, that plummeted 500 feet in 18 seconds after an incorrect autopilot setting caused it to aim for the ground.
An investigation found the plane "pitched nose-down and then descended rapidly" but the captain was able to recover the aircraft in time.
Cockpit alarms alerted the captain and first officer to what was happening.
Staff later reported that the plane had become "visual with the ground".
Four aircrew and 44 passengers were on board the Flybe flight when the incident occurred shortly after takeoff in January.