John Downey: Double murder accused released on bail
By Mark Simpson
BBC News NI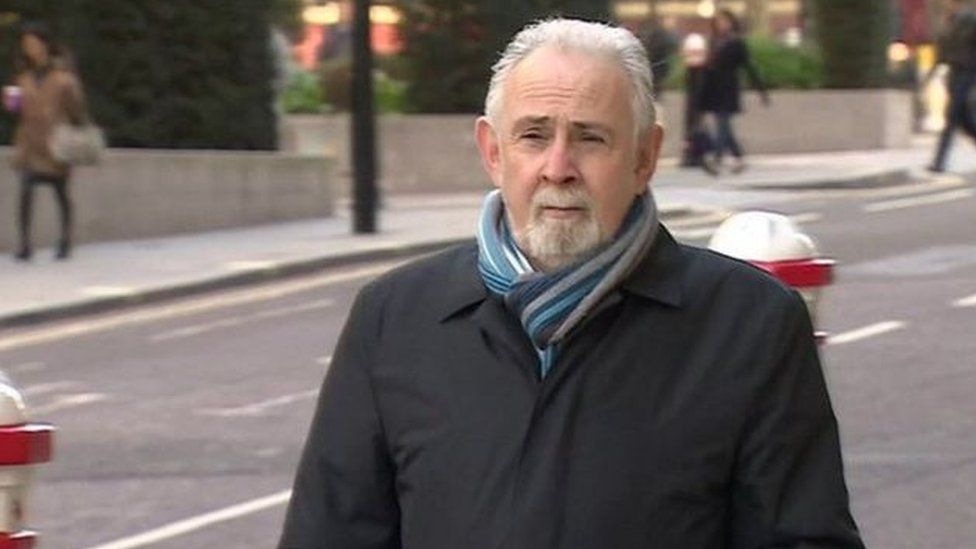 A County Donegal man wanted in Northern Ireland for suspected involvement in the murder of two soldiers has been released on bail from a Dublin prison.
The 66-year-old was granted bail on Thursday morning, but was not released from prison until 22:00 local time.
The delay was caused by the processing of a financial surety, amounting to 35,000 euros (£30,453).
Mr Downey is facing extradition over the murder of two UDR men in Enniskillen in 1972.
He is due to return to court on 23 November.
Although he is free to go back to his home in Donegal, he has to report to gardaí (Irish police) every day and surrender his passport.
On Thursday afternoon, he complied with a court ruling that he provide a surety of 30,000 euros (£26,155).
However, the money did not come from two separate sources as specified by the court.
The judge subsequently changed his bail conditions to 30,000 euros from a single source plus 5,000 euros (£4,360) of his own money.
Mr Downey is challenging a European extradition warrant.
The PSNI suspect him of involvement in the killing of soldiers Alfred Johnston and James Eames 46 years ago.
At the hearing on Thursday morning, the court heard Mr Downey had handed over his passport to gardaí.
His lawyer argued he was not a "flight risk".
The lawyer said Mr Downey had worked in a "positive manner" for the peace process and had been involved in reconciliation work.
Det Sgt Jim Kirwin told the court that Mr Downey lived in a "substantial" property in County Donegal.
He said he had been living there for about 30 years.
The court was told Mr Downey is married and has two adult children. He suffers from ill-health, due to hypertension and a heart condition.
The decision by the Northern Ireland authorities to prosecute him over the 1972 murders was made in June.
The court was told that while he was on trial over the Hyde Park bombing he was granted bail, and he fulfilled all of the bail conditions.
Mr Downey did not speak during Thursday morning's 30-minute hearing.
A Garda sergeant had objected to bail on a number of grounds, including the gravity of the charges Mr Downey faces.
A full extradition hearing is expected to take place on Friday, 23 November.
Mr Downey was previously accused of involvement in the 1982 Hyde Park bombing.
Four soldiers and seven horses were killed in the attack
He was due to stand trial in 2014, but the trial collapsed.
It emerged he had been sent a so-called 'on the runs' letter which said he was not wanted for arrest, questioning or charge by the police.
The news that he would not face trial prompted an immediate outcry, with then-prime minister David Cameron telling the Commons that the letter he received in error had been a "dreadful mistake".
The Northern Ireland Good Friday Agreement of 1998 meant anyone convicted of paramilitary crimes was eligible for early release. However, this did not cover those suspected of such crimes, nor did it cover people who had been charged or convicted but who had escaped from prison.
Negotiations continued after the signing of the agreement between Sinn Féin and the government over how to deal with those known as On the Runs.
Sinn Féin sought a scheme that would allow escaped prisoners and those who were concerned they might be arrested to return to the UK, but a formal legal solution proved difficult to establish in the face of strong unionist opposition.
Against this backdrop, the IRA had still not put its weapons beyond use and Sinn Féin needed grassroots republicans to continue supporting the peace process.
Sinn Féin TD Martin Ferris was at Thursday's hearing in Dublin.