'Forgotten' World War One brothers remembered
By Louise Cullen
BBC News NI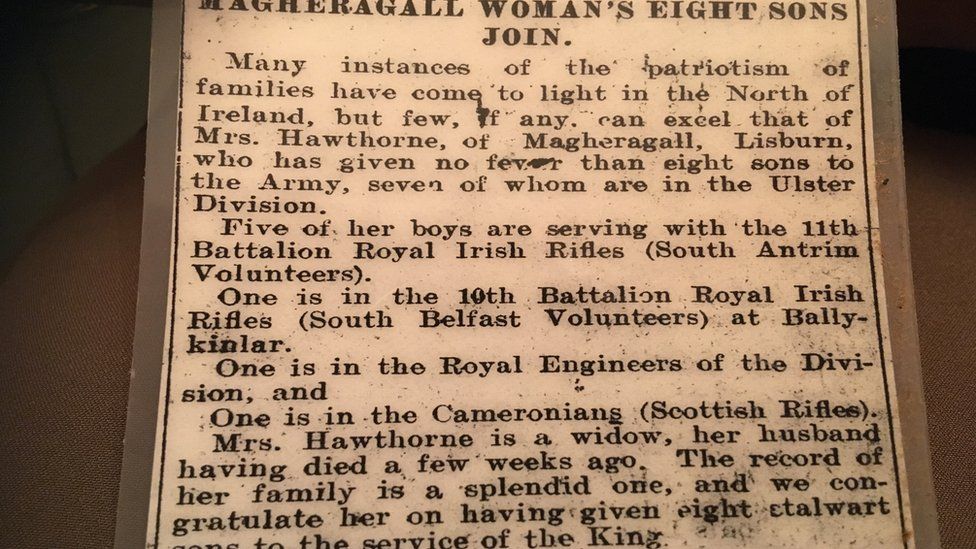 Eight Hawthorne brothers joined the Great War effort. Only six returned.
But the ultimate sacrifice, made by Thomas and Albert, was never recognised on any memorial.
"My grandfather, Thomas, he joined in 1914 at Ballykinler and went to France. Albert, his brother, joined not long after that," said Cyril Hawthorne.
"Albert was killed at Messines in the Battle of Passchendaele.
"My grandfather was at the Battle of the Somme and that's where he was killed. It seems he was carrying ammunition and a shell hit him and blew him to bits.
"There was no grave. My grandmother was sent a certificate - 'missing, believed killed'."
The eight Hawthorne brothers headed off to war in 1914 - just weeks after their father had died. The strength of his widow in sending her sons off was praised in a local paper.
The family has a longstanding military history, and the absence of two relatives' names on any memorial Cyril could find weighed heavily on him.
"I was military myself, so I was always interested," he said.
"They were originally from Magheragall, and I said, 'they're bound to be on some of the cenotaphs in some of them wee villages'.
"But I couldn't find them.
"A man goes out and leaves four kids and a wife, he goes out to fight in France with his brothers - it's hard to take in.
"That's when I felt it, and I said there had to be something done."
Along with his cousin Marian, he began researching the history. They contacted the British Legion and Lisburn and Castlereagh City Council.
"I think it's a slow process, it's only every so many years that they look this sort of thing up and the names go on. But thank God, it's happened for us."
Thomas and Albert's names have been added to the war memorial in Lisburn, and this Armistice Day, Cyril will join other family members in laying a wreath where his ancestors are commemorated.
"I'm looking forward to it so much. I've everything ready to put on me - my blazer, my grandfather's medals.
"They're a hundred years of age, even the ribbon."
Cyril and the whole family are prepared for an emotional day.
"There's me, with nine grandchildren and 14 great-grandchildren - I'm gifted, so I am," said Cyril.
"But I never met my grandfather, and that's the sad part. I would have loved to have met him.
"I'm proud to be a Hawthorne."