Cookstown crash: Man found not guilty of killing Bernie McNicholl
By Julian Fowler
BBC News NI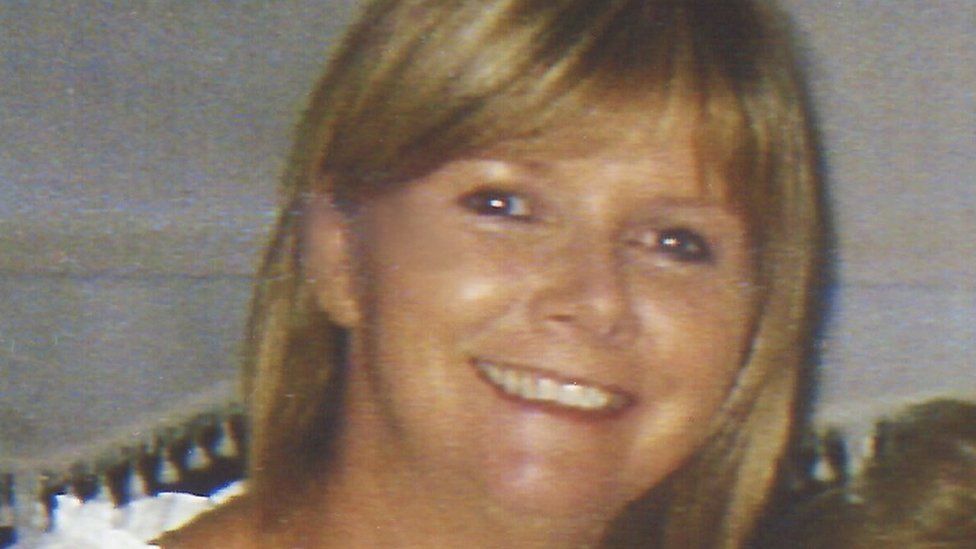 A man has been found not guilty of causing a fatal car crash in Cookstown by standing in the road to try to thumb a lift home after his stag do.
Jonathan Ferguson, 30, from Elm Park in Moneymore wept after the jury delivered a majority verdict.
He had denied unlawfully killing Bernie McNicholl on 12 April 2015.
The landmark case is thought to been the first time a pedestrian has been charged with manslaughter following a fatal road collision.
The driver, Denise Mackle, said she had swerved to avoid hitting a man standing in the middle of the Moneymore Road who had his arms out trying to stop traffic.
The car struck a tree resulting in the death of the front seat passenger, Ms McNicholl.
The prosecution had claimed that the man in the road was Jonathan Ferguson and that while he had no intention of causing a danger or causing a crash, he had endangered people on the road by his actions.
It was this unlawful action, the prosecution lawyer claimed, that led to the death of Ms McNicholl.
The trial heard that Mr Ferguson had been walking home after his stag do having consumed an "enormous" amount of alcohol.
The court was told that he was a man of good character who had never been in trouble with the police before.
He chose to give evidence in his trial and told the jury he had followed the footpath down a slip road to the Tamlaghtmore Road because it was "safer".
He had been trying to call taxis on his mobile phone, but claimed he had fallen asleep at the entrance to a house and had not seen or heard any collision.
A defence lawyer said there was no evidence to support the prosecution claim that the defendant had been struck by the wing mirror of the car causing the mirror to break off and land in the road.
"If Mr Ferguson was struck by that wing mirror of that car at 50mph, he is simply the luckiest man in Ireland to be hit with that car in the way described and to have absolutely no injury," the defence lawyer said.
He added that "what happened on that road undoubtedly was a tragedy" but told the jury "if you wrongly convict a defendant, you add to the first tragedy by creating a second one".
A prosecution lawyer had claimed there was a powerful and persuasive circumstantial case against the defendant.
He said that the defendant had known "from the first second" that he was responsible but had "cowardly" run away.
He said his explanations in key aspects of the case were: "I don't know. I can't be sure. It's a bit of a blur."
The jury, by its majority 10-1 verdict, decided that Mr Ferguson was not responsible for causing the death of Bernie McNicholl.
They returned their verdict following almost five hours of deliberations.